TAYPORT EVENTS 1946 - 1949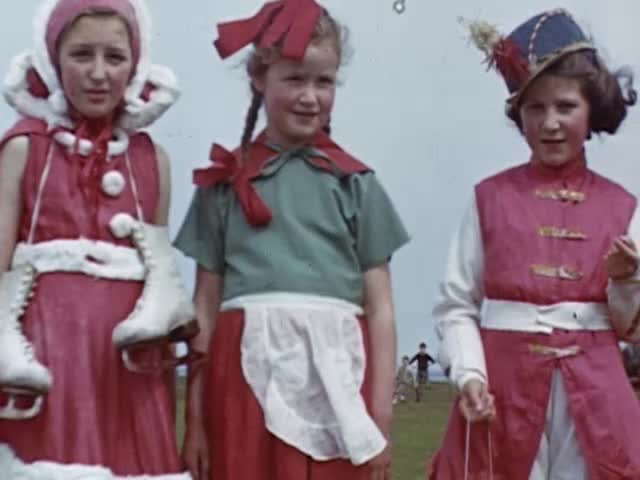 This video is not available to view remotely
Full length video - onsite only
Please read Understanding catalogue records for help interpreting this information and Using footage for more information about accessing this film.
Title: TAYPORT EVENTS 1946 - 1949
Reference number: 2294
Date: 1946 - 1949
Director: [filmed by R. Robertson]
Sound: silent
Original format: 16mm
Colour: bwcol
Fiction: non-fiction
Running time: 12.55 mins
Description: The coming of electric light to the streets of Tayport, a local pageant and the Royal Highland Show in Dundee attended by HM Queen Elizabeth. The end of the black out?

[See also refs. 2289, 2290, 2291, 2292, 2295, 2299, 2300, 2301, 2304, 2307].

For further information about Tayport, including photographs from this period of Tayport's history, visit: http://www.tayport.org.uk [last accessed 17/2/2009]
Shotlist: Credits (0.14); Electric light comes to Tayport streets. Outside the Council Chambers on 26 November 1948 at 4.30 pm (a foggy night) [Dark] Shots of crowd (0.33); Provost Barron presses the button. Shots of same and of lamps lit (0.55); Toasts and speeches in the Council Chambers. Let us look at the guests. General views of local officials, council officers and guests from the electricity board [all named], and tea ladies (2.44); Street lamp in daytime (2.52); Tayport Town Councillors relaxing, September 1947. Shots of men on bowling green (4.15); Parade and sports 8 June 1946. [Col.] General views of same in open air park (5.42); Visit of Mary Queen of Scots to Sir William and Lady Bruce at Earlshall Castle in 1562. Pageant presented by Tayport Dramatic Circle, 5 June 1948. Shots of the pageant (8.45); Royal Highland Show. Dundee 1949. Shots of entrance and inside the exhibition arena. General views of stands and displays. Demonstration of blacksmith's art. Livestock ring and gymkhana (12.55).