AROUND DUNDEE IN THE 1930's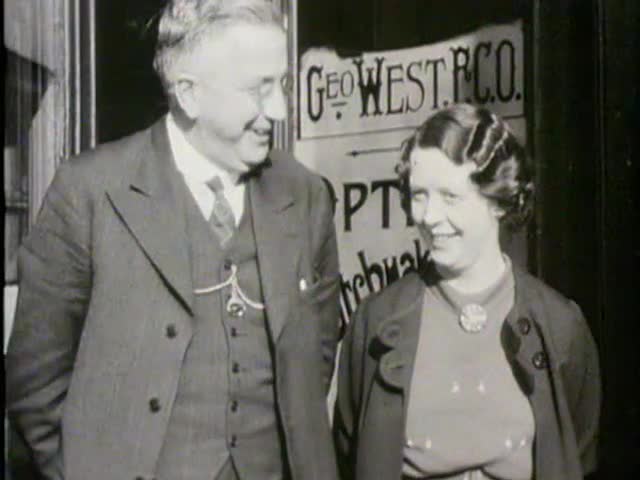 This video is not available to view remotely
Full length video - onsite only
Please read Understanding catalogue records for help interpreting this information and Using footage for more information about accessing this film.
Title: AROUND DUNDEE IN THE 1930's
Reference number: 2808
Date: 1935 - 1947c
Director: [filmed by John Stout]
Sound: silent
Original format: 16mm
Colour: bwcol
Fiction: non-fiction
Running time: 21 mins
Description: Places and events in and around Dundee in the 1930s; ships in the city's docks, a parade in Baxter Park, boxing matches at Forfar, skating at Claypotts, Dundee FC playing at Dens Park, and the flight of the Maia and Mercury aircraft. Brief shots of American battleships in the Firth of Forth.

Arbroath swimming pool was probably the second largest in the country, with the capacity for 1200 swimmers and 4000 spectators. The pool was closed during the war, and designated as a mortuary. It re-opened and was used until 1980. The Maia/Mercury flight - in 1938 Robert Maio, general manager of Imperial Airways wanted to attempt to break the world record for a long distance flight, his ambition to fly from the Tay to South Africa (over 6000 miles). After the two planes detached, the Mercury then to fly solo to South Africa. Some famous Dundee landmarks seen in film, are now no longer in existence, eg. the Victoria Arch. Footage also of Third Lanark football team which became defunct in the 1950s. Shots of the liner 'Homeric' at Inverkeithing for breaking up - some of the liner's panelling went into the Regal Cinema in Dundee and the dance floor of Dundee's Locano was also taken from the liner.
Shotlist: [Shotlisted with the aid of a taped commentary supplied by donor]

Roll 1 B/W
Title Dundee High St. and Albert Square *1935 gvs street life, including Dundee's 6'8" policeman and c/u George West who owned a watch repair business (1.23) The Camperdown Dock & Tidal Basin gvs small and large cargo boats [tape identifies several]. Victoria Arch. Fishing boats (2.30) Baxter Park Parade c1936-1937. Inspection by Lord Provost Buist, gvs (3.20) Army Sports at Barry gvs tug of war, racing (5.08) Arbroath Bathing Pool - busy day poolside (6.00) c1935 Cobham's Air Display at Riverside gvs (6.44) *1938 Boxing at Forfar - Benny Lynch, John McGrory, Jake Kilrain, Mick Summers, Jim Brady [tape identifies each] gvs various bouts at Forfar Athletic's stadium, [bouts in order - mix of real and exhibition bouts] [exhibition] Benny Lynch v John McGrory; Jake Kilrain v John McGrory [bout] Jim Brady v Mick Summers and Jim Cowie (8.00) Pre and Post-war skating at Claypotts *1935 gvs people skating on pond (8.39) *1947 continued (8.49) *1937 Dundee FC play Third Lanark at Dens Park gvs [ Dundee in darker jerseys] (9.25) MAIA and MERCURY 1938. Maia, the larger of the two aircraft, alone and with Mercury on its back, ready to depart on flight to South Africa. c/u from boat on the water. Maia returns after separation. gvs spectators (10.43) Speed trials on the Clyde. Queen Mary liner in Firth of Clyde (11.54) *1935 Liner. Shot fire damaged l'Atlantique [which had been towed to the Clyde for breaking up] (12.35) Liner Homeric (?). [1938] Liner Queen Elizabeth on stocks. Dumbarton Rock (13.06) gvs vessels, paddle steamer [includes shot of John Stout on ferry], naval vessels (13.53) American Battleships on the Forth - Arkansas and Wyoming *1935 gvs (15.10) Road Race and Dundee featuring Dinky Wright and Jim Brannan (post-war) gvs runners and spectators [including Ken Shaw, Scottish Heavyweight boxing champion, seen on his bicycle] Relay race in city and in outskirts (16.43)

Col. Roll 2 (timings contd. from Roll 1)

VJ PARADE IN CITY SQUARE 1946 gvs (7.12) Army display at Riverside with the despatch riders motorcycle team c1947 gvs crowds, parade, manoeuvres, catching a "german" (19.18) RHS at Dundee 1947 gvs Royal Highland Show, tents and grounds (inc. shot of John Stout, in his 60's, walking with stick) (21.13)