ROAD TO THE ISLES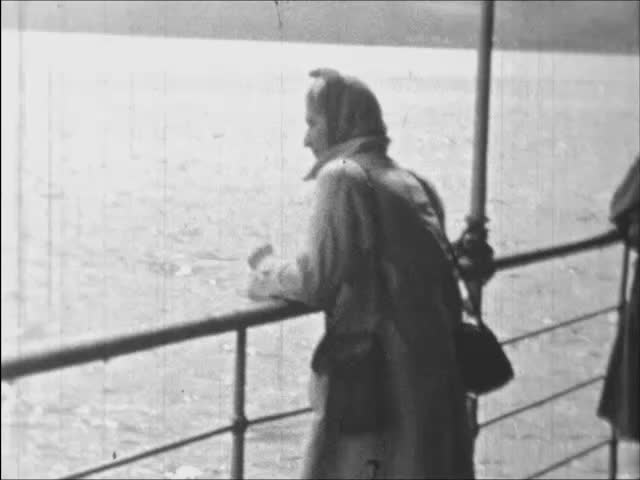 This video is not available to view remotely
Full length video - onsite only
Please read Understanding catalogue records for help interpreting this information and Using footage for more information about accessing this film.
Title: ROAD TO THE ISLES
Reference number: 9475
Date: 1947c
Director: filmed by Arthur H. Haggas
Sound: silent
Original format: std. 8mm
Colour: bw
Fiction: non-fiction
Running time: 18.02 mins
Description: Amateur footage of a couple on holiday at Dunoon and on a trip round the Kyles of Bute - also includes some Glasgow street scenes and the Home Fleet on the Clyde.

See also ref. 9474, 9476, 9477 and 9478 for other films in this collection.
Shotlist: [no title] - man comes out of house in suburban street carrying suitcases, bundles them into Jaguar saloon car, then drives off (0.56) LUGGAGE - AND ALL FOR TEN DAYS - WHAT WOULD IT BE FOR A MONTH? - driver brings more cases out of house (1.21) ROAD TO THE ISLES - c/u map showing route from around Keighley to Glasgow - THE COPYRIGHT OF THIS FILM IS RESERVED BY A.H. HAGGAS. I.A.C. - title over tracking shots - tracking shots from car through country and town, roadsign to Settle (2.16) SETTLE - PENRITH - SHAP - GRETNA - ARRIVING AT THE BORDER - pan across old bridge to woman on riverbank - OF COURSE WE MUST VISIT THE BLACKSMITH SHOP - pan across blacksmith shop at Gretna Green - ANYTHING CAN HAPPEN HERE - int shots of smithy, smith stoking fire - THE REGULAR CUSTOM - man and woman shake hands and exchange hands and man places ring on woman's finger - gvs smith (4.14) THE OPEN ROAD TO GLASGOW - tracking shots from car through countryside and town - shots of car at roadside, bus and cars passing, pan across hills - driver turns starting handle, opens engine hood, finds cuddly toy, throws it away, then drives away (5.35) GLASGOW - ARGYLE STREET - tracking shots from car along Argyle Street - SAUCHALL STREET - gvs same, including C&A on corner of Cambridge Street - AT GLASGOW QUEEN MARY II AWAITES US - BY STEAMER TO DUNOON - c/u map showing route from Glasgow - steamer Queen Mary II at berth - tracking shots along Clyde from steamer, passing shipyards and various vessels, Alexander Stephen's at Linthouse, tugs and puffers, destroyer HMS Matapan, steamer (8.07) DUNBARTON ROCK - gvs passing Dumbarton Rock - THE ROYAL NAVAL REVUE - gvs destroyers and aircraft carrier of Home Fleet assembled on Firth of Clyde - gvs on deck of steamer, including Jaguar car on deck with 'Smoking Strictly Prohibited' notice - gvs passing cargo vessel and approaching pier at Dunoon (10.28) WE ARRIVE AT THE HOTEL - gvs Annet-Bhan Hotel in Dunoon - THE VIEW FROM OUR WINDOW - gv bay and small vessels - A SUNDAY MORNING STROLL - SANDBANK AND HUNTERS QUAY - gvs woman walking along road, coastline, country road and village - gvs loch and naval and merchant vessels, yachts, Ardnadam war memorial, man wearing kilt walking along road - gvs Firth of Clyde - man pacing up and down outside hotel, chain-smoking, looking at his watch - THE CAUSE OF THE ANXIETY - shots of woman at mirror in hotel room, curling her hair, putting on make-up - NOW I THINK WE ARE READY - OH MORE ADJUSTMENTS - woman puts on and adjusts stockings, shoes - TIME AND TIDE (ALSO BOATS) WAIT FOR NO ONE - woman hurries along pier - steamer Duchess of Argyll approaches pier and passengers board - shots leaving Dunoon pier in rain (15.54) A TRIP TO THE KILES OF BUTE - gvs from deck of steamer, passing naval vessel, paddle steamer, approaching Rothesay pier, passing naval vessel and submarines - gvs coastline, man and woman on deck, other passengers, gulls, submarine HMS Viking, paddle steamer (18.02)

[NB - inter-titles have been transcribed directly from film, including inaccuracies in spelling]