HOLIDAY TO DUNOON AND EDINBURGH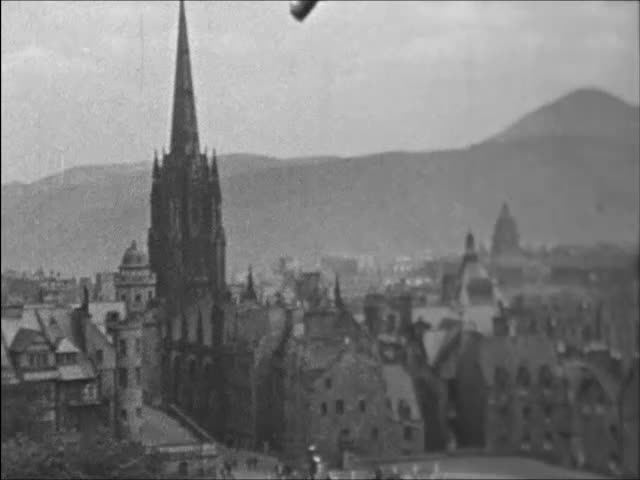 This video is not available to view remotely
Full length video - onsite only
Please read Understanding catalogue records for help interpreting this information and Using footage for more information about accessing this film.
Title: HOLIDAY TO DUNOON AND EDINBURGH
Reference number: 9476
Date: 1947*
Director: filmed by Arthur H. Haggas
Sound: silent
Original format: std. 8mm
Colour: bw
Fiction: non-fiction
Running time: 25.21 mins
Description: Amateur travelogue of a holiday trip to Dunoon and Edinburgh.

See also ref. 9474, 9475, 9477 and 9478 for other films in this collection.
Shotlist: [no title] - int shots of Arthur Haggas sitting smoking in armchair and looking through brochures - cut to shot of Annet-Bhan Hotel in Dunoon - conversation with scrolling captions between Haggas and hotel to book a room - Haggas stuffs clothes into suitcase (1.33) EARLY NEXT MORNING - alarm clock rings at 5am and Haggas goes back to sleep - OH GIVE ME FIVE MINUTES MORE - he wakes up again - OH HOW THE BED DOES PULL - he gets up and stretches (2.35) Haggas drives car out of garage and whistles for proprietor, who fills car with petrol, then they haggle over price with or without coupons - Haggas drives back home (4.39) LUGGAGE - shot from boat approaching Dunoon Pier - AND NOW THE QUEEN ELIZABETH - gv Firth of Clyde, RMS Queen Elizabeth in distance - A RUN TO LOCH ECK - gvs loch, boats on foreshore - THE LOCH ECK MONSTER - c/u rock with 'Kilroy' written on - gvs loch and road with car - tracking shots from car along country road (7.13) gvs yachts on firth - SIR HARRY LAUDERS HOUSE - gv Laudervale near Dunoon - BY STEAMER TO LOCH LONG - gvs loch and mountains, deck of steamer, Lochgoilhead pier and village - gvs passengers on deck, loch and mountains, approaching Dunoon Pier - paddle steamer Jeanie Deans departing from pier (10.07) UP GLEN MASSEN - tracking shot from car up road - c/u waterfall and river, car at roadside - tracking shots from car along country road, gvs landscape - gvs loch and yachts - THE LAST BOAT - high shots Dunoon Pier and steamer approaching and departing - EVENTIDE - gvs loch at sunset - GOODBYE TO DUNOON - shots from departing steamer (12.33) BY TRAIN TO EDINBURGH - c/u map showing route to Edinburgh - shots from train past shipyards and countryside - PRINCES STREET FROM - SCOTT MONUMENT - high shots of Princes Street looking west and east - gvs Scott Monument, Princes Street - NATIONAL GALLERY - gvs frontage of building - gvs Esplanade at Edinburgh Castle, entrance gateway and visitors - pan across Firth of Forth from Edinburgh Castle, then across city and Arthur's Seat, Waverley Station - Haggas and his wife beside cannon and National War Memorial - Scott Monument and Princes Street - CIVIC HALL - gv City Chambers entrance - EDINBURGH CITY PRIZE BAND - one-man band busking on street - gvs Princes Street Gardens and The Call memorial, castle from below - ON CARLTON HILL - gvs National Monument, Nelson Monument, Dugald Stewart Monument on Calton Hill (17.04) SATURDAY NIGHT IN PRINCES STREET GARDENS - gvs pipe band marching and playing - gvs Ross bandstand, people waltzing and country dancing in front of large crowd - SUNDAY EVENING - gvs fountain, pipe band performing (19.37) THE FORTH BRIDGE - gvs bridge and ferry approaching - car driving off and other cars on deck - tracking shots from deck of ferry - SMT bus and cars manoeuvring on deck (21.20) gvs Edinburgh Zoo - sign, entrance gateway - gvs swans, lion, the Mansion House, chimp, bear, bison, swans, seal, peacock, bears, lions, tiger, wolves, polar bear (23.32) HOMEWARD BOUND - gvs map showing route back to Keighley - Jaguar at side of country road - THE DEVILS BEEF TUBS - pan across Devil's Beef Tub near Moffat - gvs bridge and car crossing - scrolling caption "Gentlemen - The Tartan" - int shot in house, Haggas drinking a toast and wearing a kilt (25.21)

[NB - inter-titles have been transcribed directly from film, including inaccuracies in spelling]