HOLIDAY TO SCOTLAND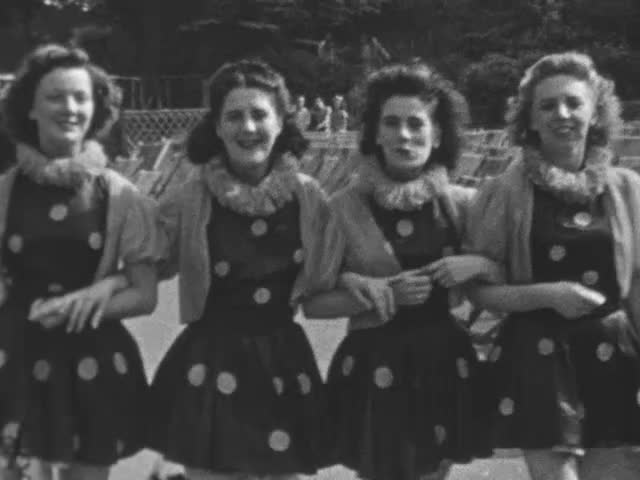 This video is not available to view remotely
Full length video - onsite only
Please read Understanding catalogue records for help interpreting this information and Using footage for more information about accessing this film.
Title: HOLIDAY TO SCOTLAND
Reference number: 9477
Date: 1946c
Director: filmed by Arthur H. Haggas
Sound: silent
Original format: std. 8mm
Colour: bw
Fiction: non-fiction
Running time: 31.53 mins
Description: Amateur travelogue of a couple's holiday to Dunoon, including a steamer trip to Rothesay.

See also ref. 9474, 9475, 9476 and 9478 for other films in this collection.
Shotlist: [no title] - scrolling caption for end of film - WE NOW RETURN INTO ENGLAND - tracking shot from car along country road - PENRITH - KENDAL - SETTLE - SHIPLEY - int shots of Arthur Haggas sitting in armchair in house, throws travel brochures away - c/u ornamental lamp - COPYRIGHT RESERVED - A AHH PRODUCTION - THE END over IAC crest (1.55) gvs from steamer approaching Dunoon pier, passengers disembarking from Duchess of Argyll, which then departs from pier (2.56) BY COACH TO OBAN - tracking shots from coach along country road - INVERARAY - gvs buildings in Inveraray, war memorial and loch, pan across buildings on Front Street, view down Main Street, Inveraray Cross (4.16) INVERARAY CASTLE - RESIDENCE OF THE DUKE OF ARGYLL - gvs castle and grounds, people getting into coach, courtyard with lion statue - int shots in castle room - gvs coach party walking around gardens, waterfall down hillside (5.25) OBAN - pan along Oban waterfront and loch - ls McCaig's Folly - gvs loch and cathedral - man filming with cine camera on waterfront - Haggas walking along seafront wearing kilt - gv seafront - high tracking shots loch and coastline (7.04) BACK IN DUNOON - paddle steamer approaching pier, passengers disembarking - gvs Pier Esplanade and castle - steamer Duchess of Montrose approaches pier, tied to pier, gangplank raised, passengers disembark and board - departs from pier, older paddle steamer departs in background - Highland Mary statue - pan across houses at sea-front - gvs Argyll Hotel, busy street, pier and steamer, children playing on beach - pan across beach - ls steamer (11.07) FAIRY GLEN - gvs woodland walk and waterfall, Dunoon Parish Church - HIGHLAND GAMES - gvs pipe bands marching past - march-past of athletes - gvs young Highland dancers on stage, throwing the hammer, running race, Highland dancing, piper, long jump, dancers pose for camera, sword dance, reel, pipe bands (15.40) gvs Esplanade, putting green, bandstand - gvs troupe of entertainers dancing and singing on stage, accordionist, Irish dancing - shots of audience reclining in deck-chairs - gvs male singer, comedy sketch - pan across audience (17.23) THE NEW LOOK IN DUNOON - SOME LOOK - group of women entertainers approach camera - gvs floral display, floral town crest and thistle - BY ROAD TO PUCK'S GLEN - gvs country road and car, bus passing, group of people at woodland walk - pan across hillside and lodge hut - gvs walk and forest, landscape, road, ornamental gates and driveway, fountain, pan across Benmore House, pond and bridge in botanic gardens, fountain, bridges (21.45) road signpost to Loch Striven and Toward Pier - RAC road-sign 'Toward Point' - gvs lighthouse and steamers in distance (23.33) ARRIVING BACK AT DUNOON WE SEE THE QUEEN MARY - l/shots RMS Queen Mary sailing past on Firth - SUNRISE IN THE BAY - panning shots across shoreline at sunrise (24.35) A TRIP TO CAMBLETOWN - gvs from steamer passing lighthouse, approaching Rothesay Pier - gvs Rothesay seafront, paddle steamer approaching, shoreline, large naval vessel at anchor, crowds on promenade, steamer approaching pier, putting green and Victoria Hotel, outdoor draughts game, Uncle Phil's Punch and Judy show, crowd watching - c/u steamer funnel, passengers on deck - Largs pier - panning shots along sea-front at Largs as steamer departs - gvs passengers on deck, passing lighthouse, passing submarine P68 HMS Venturer - gvs band playing on deck of steamer, passengers, coastline, Haggas wearing his kilt - gvs coastline from steamer, passengers on deck (31.53)

[NB - inter-titles have been transcribed directly from film, including inaccuracies in spelling]