OUR SUMMER PICKINS 1963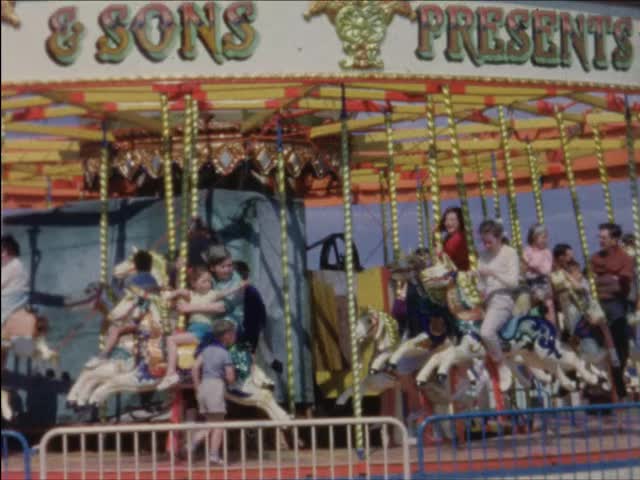 This video is not available to view remotely
Full length video - onsite only
Please read Understanding catalogue records for help interpreting this information and Using footage for more information about accessing this film.
Title: OUR SUMMER PICKINS 1963
Reference number: 9474
Date: 1963
Sound: silent
Original format: std. 8mm
Colour: col
Fiction: non-fiction
Running time: 30.32 mins
Description: Amateur footage of family holidays, including trips to Butlin's holiday camp at Heads of Ayr, Alloway, Wales, Chester Zoo, Italy and Austria.

See also ref. 9475, 9476, 9477 and 9478 for other films in this collection.
Shotlist: PIXIELAND PRODUCTIONS PRESENT - title - dark shots of rain falling on ground - tracking shots from car along motorway - gvs Scotland's First House, blacksmith's shop at Gretna Green - dark shots of interior, pictures, anvil - gvs group of visitors enacting mock wedding ceremony - family posing for camera at anvil - gvs outside, tour coach and visitors, The Standing Chain in garden - tracking shots from car along country roads, approaching entrance to Butlin's holiday camp at Heads of Ayr - gvs Butlin's, children playing on chute and swing, putting, carousel - children in paddling pool playing with toy boat (4.44) gvs indoor swimming pool - pipe band playing on sports field - gvs chair lift - shots from chair lift of Butlin's camp, swimming pool, playgrounds, tennis courts and sea beyond (6.08) dark indoor shots of wrestling bout - gvs around camp, cleaners making beds and cleaning accommodation huts - shots of Empire Theatre and billboard for Uncle Harry - camp redcoats leading group of children to swimming pool - redcoats in fancy dress are pushed off high diving board into pool - gvs chair lift - boy dressed as pirate fires gun at camera - gvs boy and girl on train ride (9.46) gvs family on visit to Burns Cottage at Alloway - dark int shots - family depart - gvs family visiting Burns Monument and gardens, the Auld Brig, River Doon, the Auld Kirk, statues of Burns characters, family in gardens, bird-house on tree trunk - dark int shots of toy car-racing track (11.58) family walking along woodland path to Robert the Bruce's cave, shown round by guide - dog lying next to sign for Bruce's Cave car park - int shots in museum (12.54) sequence of European postcards - SOME SHOTS OF LYNNE'S TOUR ABROAD - sequence of brief shots from train carriage through Europe - gvs in city, trams, streets, possibly Zurich - gvs in mountains and view down to lake - gvs from coach passing through ski resorts in Austria - gvs souvenir stall, lakes and mountains - gvs Lake Garda, Riva del Garda at foot of mountain - pan across power station and car park - people relaxing on promenade, sitting outside cafe - shots from inside cable car going up side of mountain, views back down to lake and town - dark shots of old building - gvs camp-site at lake edge, vines on terraces on hill, lake (17.30) gvs Venice, tracking shots from boat on canals - gondolas moored and on canals, houses at edge - gvs Piazza San Marco and Basilica - dark interior shots - Basilica and campanile from across lagoon - domes of Basilica - tracking shots from train past river and mountains, church tower, bridge - gvs Innsbruck, public gardens, Baroque frontage of the Helblinghaus, the Goldenes Dachl - brief pan across square and fountain (19.56) [black] (20.12) brief shot of young women in basement posing for camera - [brief shots in London and black] (20.23) tracking shots from vehicle along country roads in Wales, passing through Botwnnog - gvs houses and Botwnnog Post Office, boy and girl walking along street to garage, get into Ford Anglia inside - c/u sign Aberdaron Meat Stores - gvs old bridge and village square, cafe, shop, Y Gegin Fawr restaurant - gvs beach, people playing on sand - boy and girl making sand-castles, climbing cliffs - gvs beach and coastline - gvs busy beach, children playing cricket, people sunbathing, paddling, playing football, playing on sand dunes (24.30) tracking shots from car going down through valley and along single-track country road, across moorland (26.03) c/u Chester Zoo pennant - gvs zoo, including seals, bears, goats, polar bears, tigers, monkeys, lions, zebra, giraffes, boy feeding zebra, camels, beaver, elephants, rhinoceros, visitors on motor launch, gv zoo buildings - Bye Bye Folks - THE END animated caption (30.32)