REAL MEANING OF CHRISTMAS, the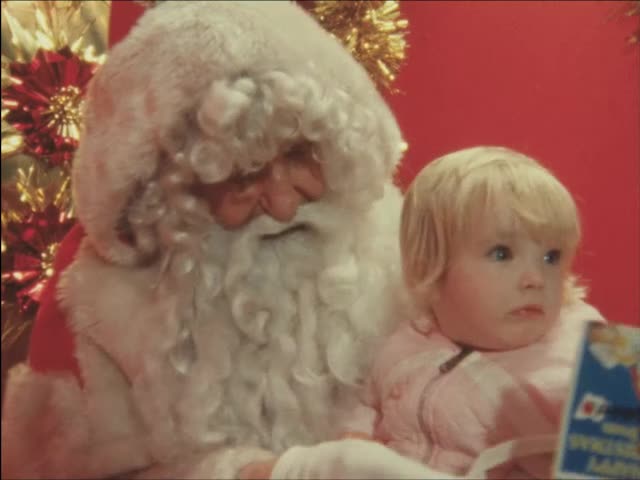 This video is not available to view remotely
Full length video - onsite only
Please read Understanding catalogue records for help interpreting this information and Using footage for more information about accessing this film.
Title: REAL MEANING OF CHRISTMAS, the
Reference number: T2383
Date: [1984]
Director: [d. J. McCann]
Production company: [ Scottish Television]
Sound: sound
Original format: 16mm
Colour: col
Fiction: non-fiction
Running time: 24.28 mins
Description: Scottish Television documentary about the modern celebration of Christmas, featuring interviews with members of the public, ministers, teachers, retailers and customers.

Original STV index card notes: "In this programme Report set out to discover how much of the true message of Christmas figured in present day celebrations. The prog. looked at the brightly decorated stores and asked ministers, store executives and a former religious hermit how the two sides of Christmas could exist side by side. And as in all Christmas stories there was a 'Scrooge' who felt all aspects of Christmas were Humbug."
Credits: [ed. A Boyd]
Shotlist: [no title] zoom in on still image of earth from space - gvs in department store, customers buying items at cash desks in toy and perfume departments (1.04) talking head minister in church about children understanding the 'mystery of Christmas' - shots of children's choir in costume singing Christmas carol - talking head minister about the 'Christian festival' and the 'secular orgy' of Christmas - vox pops with customers in department store about buying Christmas presents - gvs in various departments - talking head retailer in shop - shots of children visiting Santa in department store - talking head Santa about changes in children's expectations, c/u of tattoo on his arm - talking heads older woman and shop assistant - talking head older man about not wanting to get involved in Christmas celebrations (6.14) talking head retailer about current fashionable Christmas toys, including Masters of the Universe, Transformers, Knight Rider, Cabbage Patch Dolls, computers (6.53) gv St. Joseph's Hospital, Rosewell, and Rosewell St. Joseph's School - int shot of teacher and pupil - talking head teacher / nun from school - shots of teacher and children with disabilities in class, children dressing up for Christmas show and preparing tree - talking head nun / teacher about using festivals such as Christmas to provide focus in children's lives (10.09) int gv of Lewis's department store interior at Christmas - c/u shots of Christmas window displays, children and families watching from outside (11.46) talking head older man about 'repulsive' forced conviviality of Christmas - gvs Rev Richard Baxter walking round busy department store - talking head Baxter about his work as minister to Edinburgh department stores - gvs Baxter talking to staff in various departments - talking head older man about 'pleasant myths' and unnecessary paraphernalia of Christmas (15.06) ext and int gvs St Andrews and St Georges Church in Edinburgh - talking head minister about religious celebration of Christmas - talking head older man about social reality behind Dickens's Scrooge character - talking head minister about needs of the individual and the human family at Christmas, intercut with ints of church (18.28) shots of Cistercian monk Paul Baker entering building - talking head Baker about celebration of Christmas in monastery - Baker in his room playing flamenco music on home-made guitar, talking about non-materialistic approach to Christmas, Christmas as a festival of love (21.02) talking heads shop assistants about shops being busy at Christmas - talking heads customers in toy department - children in toy department (22.04) gvs school choir in costume singing Christmas lullaby, intercut with shots of mural and artwork (24.28)