EASTERHOUSE PROJECT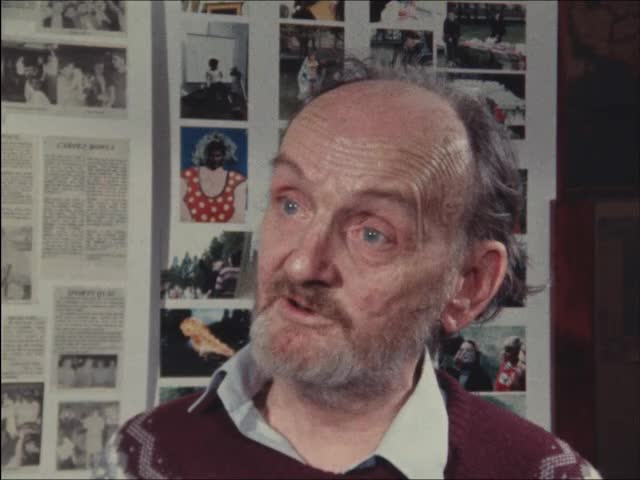 This video is not available to view remotely
Full length video - onsite only
Please read Understanding catalogue records for help interpreting this information and Using footage for more information about accessing this film.
Title: EASTERHOUSE PROJECT
Reference number: T2344
Date: 1984
Production company: Scottish Television
Sound: sound
Original format: 16mm
Colour: col
Fiction: Non-Fiction
Running time: 9.05 mins
Description: Television documentary about attempts to address the social problems of Easterhouse housing scheme in Glasgow. Includes interviews with representatives of community organisations, artists and local residents.
Shotlist: [shot-listed from .AVI file using Quicktime]

(0.00) blank (0.02) high gv of Easterhouse Project centre - int shots in centre, youths playing table tennis and snooker - panning shot across Easterhouse scheme, gvs of streets and houses - talking head young woman resident about stigma attached to media coverage of Frankie Vaughan's initiative - gvs of Easterhouse streets, derelict houses being refurbished - talking head young woman resident about localised sense of community spirit within the area (2.01) gvs in office of 'The Voice' newspaper - talking head representative of The Voice about history of the newspaper, intercut with shots of an issue being pasted up, c/u shots of pages (3.28) ext gv Easterhouse Resource Centre - int shots in resource centre office, members of Easterhouse Festival Society - talking head Festival Society director? about the society's role in the community, intercut with still shots of community arts activities (5.04) talking head writer Freddy Anderson about staging of his play 'Krassivy' in Easterhouse - shot of poster for Anderson's play 'Parcel of Rogues' (6.04) talking head minister about church involvement in community activities - talking head older local woman, criticising the churches for their late involvement in addressing community problems - talking head minister about community activities and problems, intercut with still shots of community pantomime (8.17) talking head older woman about need for the churches to come to the people to help solve social problems (9.02) blank (9.05)