WOULD YOU LIKE TO LIVE HERE?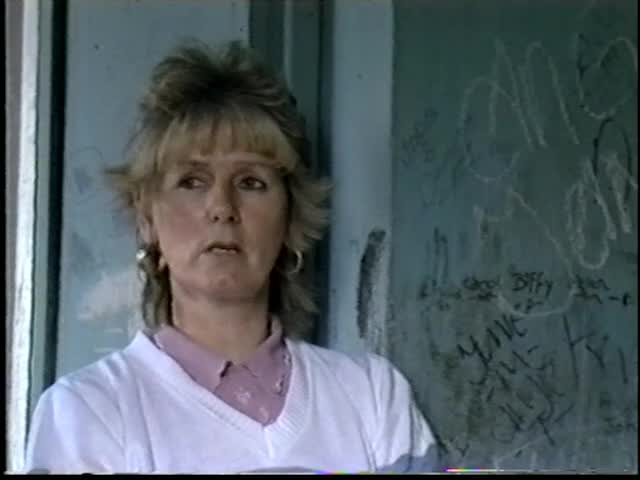 This video is not available to view remotely
Full length video - onsite only
Please read Understanding catalogue records for help interpreting this information and Using footage for more information about accessing this film.
Title: WOULD YOU LIKE TO LIVE HERE?
Reference number: 6958
Date: 1985, August
Sponsor: Fernbank Tenants Association, Elmvale/Fernbank Working Party, Glasgow District Council, Strathclyde Regional Council, Strathclyde Police
Production company: Touch Point Productions
Sound: sound
Colour: col
Fiction: non-fiction
Running time: 20.01 mins
Description: Unflinching TV documentary exposing the reality of living conditions in the Fernbank housing scheme, Springburn, Glasgow. Includes many talking head interviews with residents of the scheme.
Credits: Fernbank Tenants Association
Elmvale/Fernbank Working Party
Glasgow District Council
Strathclyde Regional Council
Strathclyde Police
cam. Tom Irwin
VTR. Gerald Clark
sd. John Clark
ed. Peter Patterson
p.ass. Margaret Alexander
p. Aileen Spankie
© Community Communications 1985
Community Communications is now
Touchpoint Productions
6 Ardencraig Street
Castlemilk
Glasgow
G45
Telephone: 041 631 1053

Shotlist: [shotlisted from VHS, manual timecode]

p.c. credits [0:00:11] woman ext. her front door, I.R.A. graffiti in b/ground [0:00:21] title [0:00:27] l/s Springburn, pan shot [0:00:32] new housing under construction [0:00:35] sandstone tenements [0:00:40] ext. Springburn Centre, another site under development [0:00:47] ext. modern public sector housing in good condition [0:00:56] ext. run down public sector housing [0:01:01] l/s Springburn C scheme AKA Fernbank, pan back, gvs deck access blocks, boy climbing on concrete walkway [0:01:40] gvs people [0:01:51] woman ext. her front door talking, another female resident talking [0:02:29] policeman talking about community policing project [0:02:55] various female residents talking about life in Springburn [0:03:27] l/s Springburn, pan back [0:03:36] meeting of Fernbank Working Party, c/u housing proposal documents [0:03:54] gvs 9 Elmvale Row blocks in Fernbank blocks and surrounding area [0:04:36] gvs meeting [0:04:50] l/s scheme, c/u graffiti in stairblock [0:05:09] woman talking intercut with shot of rubbish outside block [0:05:49] female residents talking [0:06:29] talking head Peter Mair, Senior Housing Assistant [0:06:47] gvs structural problems with buildings, including leaking flat roofs and asbestos [0:07:03] John Wright, architect, talking about building problems [0:08:08] female residents talking intercut with shot of damp wall, damp bedding, asbestos [0:09:13] ext. shot 4 Ashvale Crescent, female resident talking, elderly female resident in flat, young children outside [0:10;05] ext. boarded up block [0:10:21] int. shot rubbish chute [0:10:29] l/s pan scheme [0:10:52] talking head Florence Greenlaw, Working Party member intercut with l/s shot of scheme [0:12:13] Working Party meeting, female residents talking [0:12:57] c/u list of Fernbank Options [0:13:11] Peter Mair talking at meeting about options [0:15:43] female residents talking about options [0:16:45] talking head Jean Harris, Community worker [0:17:16] female resident talking [0:17:24] elderly male resident talking about harassment, shot of him locking and leaving his flat with dog [0:19:00] ecs [0:20:01]