GLASGOW BY THE WAY: Calton Weavers' Speeches At People's Palace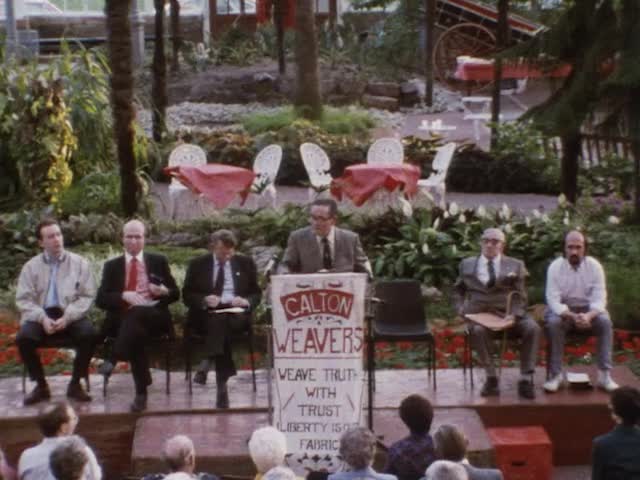 This video is not available to view remotely
Full length video - onsite only
Please read Understanding catalogue records for help interpreting this information and Using footage for more information about accessing this film.
Title: GLASGOW BY THE WAY: Calton Weavers' Speeches At People's Palace
Reference number: 4835
Date: 1987 - 1988
Director: [d. Diane Tammes]
Sponsor: [ Channel 4]
Producer: [ Seona Robertson]
Production company: [ Reality Productions]
Sound: sound
Original format: 16mm
Colour: col
Fiction: non-fiction
Running time: 9.12 mins
Description: Speakers on podium (draped in a "Calton Weavers" banner) delivering speaches to a seated audience at the People's Palace. The event is to celebrate the installation of a new Ken Currie mural, with a strong Socialist theme.
Credits: [p. Seona Robertson]
Shotlist: l/s People's Palace; slate (0.13) m/s and l/s of speakers on podium (draped in a "Calton Weavers" banner). Councillor O'Rourke introduces the Platform party. The platform party includes: Ken Currie, Cllr Pat Lally, Alistair Auld, [Director of Kelvingrove Art Gallery and Museum]; Harry McShane, Andy Walker [Alba? Films] and Mr James Young. (4.39) blank (4.50) ls platform [out of sync] (5.07) Mr Young; mentions Freddy Anderson's play "The Calton Weavers" and the recent election result; he expands a theme on the "ongoing cultural revolution" in Scotland and the connection between the mural and contemporary politics; c/u Mr Currie, arms crossed (9.12)