GLASGOW BY THE WAY: May Day March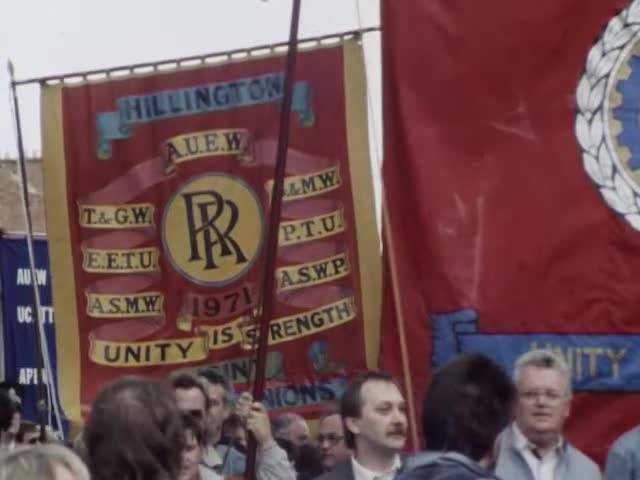 This video is not available to view remotely
Full length video - onsite only
Please read Understanding catalogue records for help interpreting this information and Using footage for more information about accessing this film.
Title: GLASGOW BY THE WAY: May Day March
Reference number: 4897
Date: 1987 - 1988
Director: [d. Diane Tammes]
Sponsor: [ Channel 4]
Producer: [ Seona Robertson]
Production company: [ Reality Productions]
Sound: sound
Original format: 16mm
Colour: col
Fiction: non-fiction
Running time: 9.52 mins
Description: 1987 May Day Rally, marching into Glasgow Green.

See also Ref 4899, (GLASGOW BY THE WAY: May Day Rally).
Credits: [p. Seona Robertson]
Shotlist: l/s line of marchers, including pipe band passing through arch to Glasgow Green; banners include Glasgow District Trades Council; JOC "Help Us to Save 1200 Jobs"; (1.04) blank (1.13) marching through the Green (1.22) [mute] further gvs of marchers with banners; Scotstoun Labour Party; (2.00) [sound] march, passing through arch, lead by pipe band Transport & General Workers Union banner; (3.00) decorated TGWU float (3.23) [mute] ms marchers arriving; banner for Furniture and Timber & Allied Trade Union; Education Institute of Scotland; Glasgow Association of University Teachers; Cathcart Labour Party (4.32) [sound] ls arrivals continue, including Maryhill Militant Supporters, crowd sings "Internationale" (4.51) blank (5.13) further gvs of marchers with banners, c/u SOGAT banner; Hillington AUEW; Joint Trades Committee Weir Pumps Cathcart; TASS; "Fall Out with Thatcher" anti-nuclear poster; marchers chant "What's the Solution? Revolution - Smash Apartheid Now"; [sound continues intermittently] carriers of NALGO banner; (7.54) c/u's individuals in watching crowd (8.18) 7:84 Theatre company; Communist Party [people following banners include Ken Currie, his mural for the People's Palace was installed later that year] (8.18) [mute] further views crowd (9.52)