GLASGOW BY THE WAY: Ken Currie And Michael Donnelly In Studio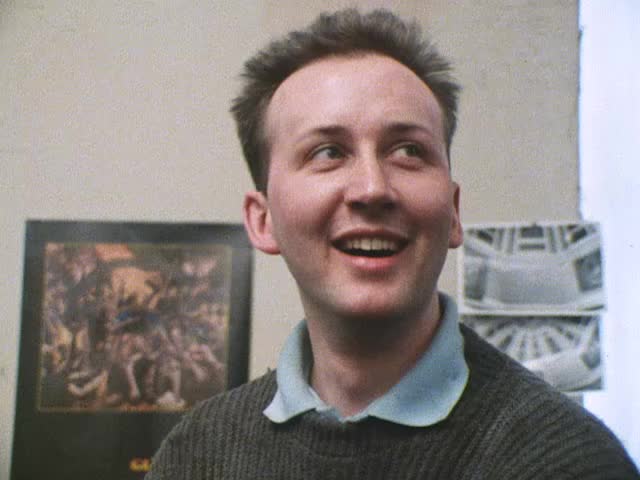 This video is not available to view remotely
Full length video - onsite only
Please read Understanding catalogue records for help interpreting this information and Using footage for more information about accessing this film.
Title: GLASGOW BY THE WAY: Ken Currie And Michael Donnelly In Studio
Reference number: 4881
Date: 1987 - 1988
Director: [d. Diane Tammes]
Sponsor: [ Channel 4]
Producer: [ Seona Robertson]
Production company: [ Reality Productions]
Sound: sound
Original format: 16mm
Colour: col
Fiction: non-fiction
Running time: 5.31 mins
Description: Glasgow artist Ken Currie and curator of the People's Palace, Michael Donnelly discussing a commissioned work for the People's Palace in Ken's studio. Shots of Ken's paintings including the panel "Fight or Starve . . . Wandering Through The Thirties" and work in progress.

See also ref 4888 for more footage of Ken Currie.
Credits: [p. Seona Robertson]
Shotlist: Talking heads Ken Currie and Michael Donnelly in Ken's studio. Gvs Ken's paintings (one commissioned for People's Palace) and work in progress. Ken discusses his preparation for the "Red Clyde...'" mural panel for the People's Palace, and its composition (2.01) Ken Currie and Michael Donnelly discuss an unfavourable review of the mural in a broadsheet newspaper [brief blank] (3.06) KC and MD discuss the symbology and effect of Curries' work on the viewer; the panel "Fight or Starve . . . Wandering Through The Thirties" is visible on the studio wall [sound continues after end of image] (5.31)