WORK THEY SAY IS MINE, the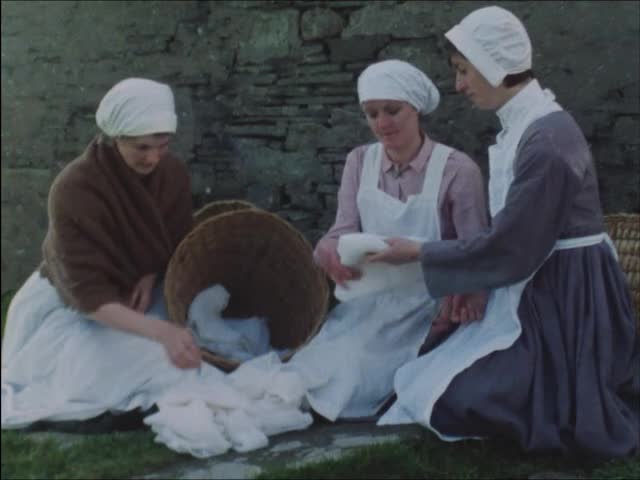 This video is not available to view remotely
Full length video - onsite only
Please read Understanding catalogue records for help interpreting this information and Using footage for more information about accessing this film.
Title: WORK THEY SAY IS MINE, the
Reference number: 4978
Date: 1986
Director: d. Rosie Gibson
Sponsor: Channel Four
Production company: Avonbridge Film Production in association with The Scottish Film Production Fund.
Sound: sound
Original format: 16mm
Colour: col
Fiction: non-fiction
Running time: 49.17 mins
Description: A film about the plight of the women in the Shetland Isles who had to rely on knitting to make a living.

The National Library of Scotland Moving Image Archive preserves production material from this programme as well as transcripts of interviews.

Winner of the Television and Radio Industries Club of Scotland (TRICS) Award.
Credits: thanks to: Maureen Burke, Barabara Moncrieff, Rosemary Inkster, Mary Spence, Beth Manson, Elizabeth Harper, Monica Scott, Sarah Grogan, Sarah Irvine, Liam Grogan, Tina Keogh, Ellie Smith, Alison Keogh, Rhona Wiseman, Lolly Graham, Michael Hannah, Neil Anderson, June Irvine, Shelia Moffat, Andrea Moffat, Tonya Moffat, Elma Johnson, Alexis Malcolmson, Valerie Smith, Stella Stove, Catherine Willin, Stanley Manson, Gilbert Inkster, Maggie and Louis Keogh, Margaret Peterson, Doreen Powys, Bertha Jamieson, Mary Blance, Stella Sutherland and Alistair Smith.
Shetland Archive, Lerwick Oral History Project, Shetland Museum, Anderson High School, Islesburgh Drama Group, Tingwall Agricultural Museum and North Isles Film and Video Group.
Brian Smith - Kirsty Caddel Story
music: Marie Watt - Hungry Sea, Peerie Lass Fraidery - Tinkin
Debbie Scott - March Reels, Joe Buggy and Joe, Capsized the Flattie, Maggie o' Ham, Selkie Song, Pam Swing's Tune.
Mary White & Evelyn Garrick - All I wanted was a Revolution.
p. Penny Thomson
c. Dianne Tammes
ass. Dianne Barry
sd. Moya Burns and Diana Ruston
ass. Sara Noble and Martien Coucke
ed. Fiona MacDonald
ass. Ian Adams
electrician Bill Watkins
p. ass. Alison Campbell
Scottish film training trust trainee Sonya MacAngus
titles Annette Gillies

produced with financial assistance from Shetland Islands Council
Shotlist: REEL 1

People dressed in costume carrying torches (1.05); teenagers entering the Anderson High School (1.13); Title (1.42); woman talking to camera, Annie Robertson, a girl in costume, spinning wheel (2.42); Children knitting in front of a fire, c/u of a woman knitting, knitted garments, girls carrying baskets on their backs (3.42); Mary Manson, Kitty Bairnson, Minnie MacDonald talking to camera, shots of hands knitting, girls walking with baskets on their backs (7.17); looking through b&w photographs (7.48); girls dressed in costume reading a newspaper, spinning wheel, looms etc. (8.25); girls walking up a lane (8.38); court room scene (11.35); woman speaking (12.14); girls singing (12.41); children knitting (12.50); girls singing (13.25); peat bogs (13.36); Jeannie Hardie, photographs (15.00) girls walking away from a peat stack, women talking to the camera. photographs, shot of the sea and the girls dressed in costume walking over grass and rocks (19.30); girls walking across field, a monument in the memory of the Shetland Fishermen who perished (21.34); gvs of landscape, girls looking at photographs again (22.50); woman driving a tractor (23.40); Ina Ritchie talking to camera, sheep farming, sheep shearing, gvs of the farm and the sea (26.07); Eileen Nicolson, cows (27.33); woman building a haystack, gils reading a letter (28.16); women working in a factory, sewing machines, woman cleaning a hotel room (30.05); girls singing (30.43)

REEL 2

Girls dressed in costume walking through the Shetlands Town (0.38); Shetland Museum, girls being shown knitting exhibits (5.05); a knitted shawl, knitting being out into baskets (7.11); girls walking up an alley (7.30); exhibits being placed on a table (8.28); a woman with her children, women talking at a table and looking at photographs (11.23); a girl playing the fiddle, people sitting eating and drinking, woman dressing up in clothes (12.37); a woman hoeing her vegetables (13.11); a girl carrying a bucket of water, another girl trading knitting at a shop (13.59); a girl singing in a social club, a woman talking and rolling wool (16.20); children playing in an old ruin (17.28); ecs. (18.34)