MIXED MARRIAGE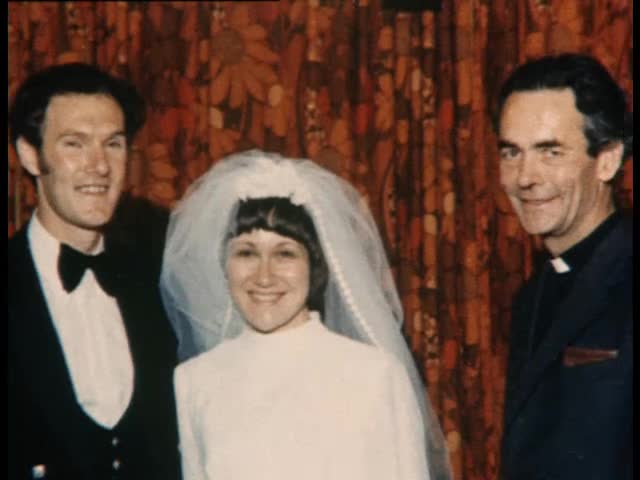 This video is not available to view remotely
A Church of Scotland minister and a Catholic priest describe the challenges facing a couple from Arran who married and intend to bring up their family in the spirit of both faiths. (clip - onsite only)
Please read Understanding catalogue records for help interpreting this information and Using footage for more information about accessing this film.
Title: MIXED MARRIAGE
Reference number: T2301
Date: 1985, March
Director: [d. Ross Wilson]
Sound: sound
Original format: 16mm
Colour: col
Fiction: non-fiction
Running time: 8.24 mins
Description: STV current affairs piece on cross denominational marriage between a Catholic lady and a Protestant man from Arran. Starting with their wedding at Glasgow University Chapel, interviews explore the problems faced by the couple and the way their priest and minister have worked with them to not only marry them, but baptise and bring up their two young children in a 'Christian' home rather than a 'Catholic' or 'Protestant' one.
Credits: [ed. M. Kessler]
Shotlist: [trims, repeated footage from the report, following. Mute] (0.16) [countdown leader] (0.25) ints Glasgow University Chapel, gvs young couple and their two small children, remembering their wedding day there (1.00) the couple (Barbara is a Catholic and Graham a Protestant) discuss attitudes they faced from their families when they said they were going to get married (1.43) c/u still photographs of the wedding, including signing of the register Catholic priest and Protestant minister (1.59) i/v John Spiers, the minister recalling how he only had a minor role to play alongside the priest (2.32) i/v Father Gerry Hughes, the priest describing the ceremony itself (Catholic Eucharist, the minister performing readings). Hughes admits the minister was left 'on the sidelines' (3.21) i/v Graham, telling how he felt the minister's role was 'token' (3.49) ints Glasgow University Chapel, shots of family (4.12) further i/v couple concerning the problems faced when they came to baptise the children - they wanted a joint service. The Archbishop refused this on the grounds that a baptism was full acceptance into the Catholic community, not only the Christian community. Barbara disagreed with that view (4.42 ) Spiers tells of the baptism of the first child, Colin, who was baptised by Father Hughes. Alan, the second child was baptised by Spiers in a Catholic chapel in Brodick. Graham explains how the children are brought up in a Christian home, alternating their Sunday worship between Chapel and Church of Scotland, a practice he thinks is rather unique (5.27) i/v with Father Hughes commenting on the fact the Church is rather out of date when it comes to cross denominational marriage (5.59) c/u photographs of the family at home on Arran, the commentary mentioning there is no segregated schooling on the island (6.14) i/v couple, Barbara commenting on how she feels pressured by the church and the community generally. She feels the Church of Christ should be as one (7.15) i/v Spiers and Hughes, both mentioning that cross denominational marriage can work if both parties are equal partners and how the Church need to unite (8.04) c/u photograph, couple cutting their wedding cake. Voiceover makes the point that such couples are pioneers marrying across denominations and are not endangering the life of the church at all (8.24)