DRAGON AND THE THISTLE, the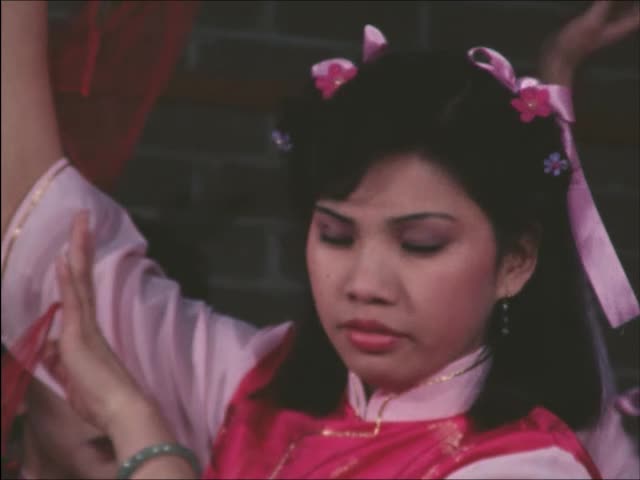 This video is not available to view remotely
Full length video - onsite only
Please read Understanding catalogue records for help interpreting this information and Using footage for more information about accessing this film.
Title: DRAGON AND THE THISTLE, the
Reference number: T2331
Date: 1985c
Production company: Scottish Television
Sound: mute
Original format: 16mm
Colour: col
Fiction: Non-Fiction
Running time: 25.26 mins
Description: Scottish Television documentary about Chinese families living and working in Glasgow and Edinburgh, the problems they face in terms of housing, education, work and community relations, and the provisions in place to address these challenges.

Please note sound is not continuous throughout, some sections have wild sound or are mute.
Shotlist: (0.00) blank (0.02) [no title] gvs of Chinese people performing New Year dragon dance in community centre, percussionists playing in background - ext shot of Dragon Pearl restaurant in Edinburgh - shot of M8 motorway at Charing Cross, Glasgow, on snowy day, pan to houses of Garnethill - gvs of streets of Garnethill, Asian families walking about - shot of sign 'The Glasgow Junior Chinese School' - shots of children around school doorway - gv West Graham Street, tenement block surrounded by scaffolding - int shots of Chinese family's flat in tenement building, repair work around bay window, children playing with toys in kitchen, parents washing dishes (2.26) talking head Chinese home-owner about difficulties of paying for building repairs (3.26) talking head Chinese official from Community Relations Council about help available to Chinese community - talking head Chinese home-owner (4.11) gv Edinburgh Castle and street on snowy day - c/u shots of community relations documents - talking head Asian community relations official about range of difficulties facing Chinese community in Scotland and problem of official complacency - shots of Chinese community relations office Vivian Lee? arriving by car at house in Edinburgh, entering house of elderly Chinese couple and chatting in living room (6.41) talking head Asian community relations official about language problems, Urban Aid funding issues - gvs of staff at work in kitchen of Rendezvous Chinese restaurant in Edinburgh - shots of co-owner Jimmy Wong making fresh noodles - gvs chefs at work - shots of co-owners Jimmy Wong, Peter Ang eating at table in restaurant, interviewed by reporter about financial difficulties caused for restaurants by addition of value added tax, Chinese / Scottish identity, problems facing Chinese children being sent back to Hong Kong for education (11.29) shots of roulette table and casino - talking head Vivian Lee? about problem of gambling addiction - talking heads Asian and Chinese community relations officials and Rendezvous owner about necessity for Chinese community centre (13.39) shots of young Chinese man performing kung fu, young boys practising and others watching - shots of girls, members of Edinburgh Chinese Dance & Cultural Youth Group practising tap dancing and Chinese dance for new year (15.41) ext and int shots of Tse's Fruit Market shop in Edinburgh, shot of owner Henry Tse serving customer - shots of his house and car in Edinburgh, and with his wife and daughter at home - talking heads Mr and Mrs Tse about mixed marriage, hopes for their daughter - talking head Vivian Lee? about racial integration (18.18) ext and int gvs of Garnetbank Primary School, Glasgow - gvs of children in classroom - talking head teacher about cultural mix and atmosphere in school - gvs of school mother and toddler group, children playing on chute, mothers chatting - shots of Annie Lim, home-link teacher, with storytelling group in class (20.43) talking head Chinese man about community relations - talking head Vivian Lee? about next generation Chinese children choosing own careers - talking head Chinese community relations official about preserving Chinese identity in Scotland - talking heads schoolchildren about living in Scotland (24.25) more shots of dragon dance - brief shot of schoolchildren seated at table in class (25.26)