FIRE SERVICE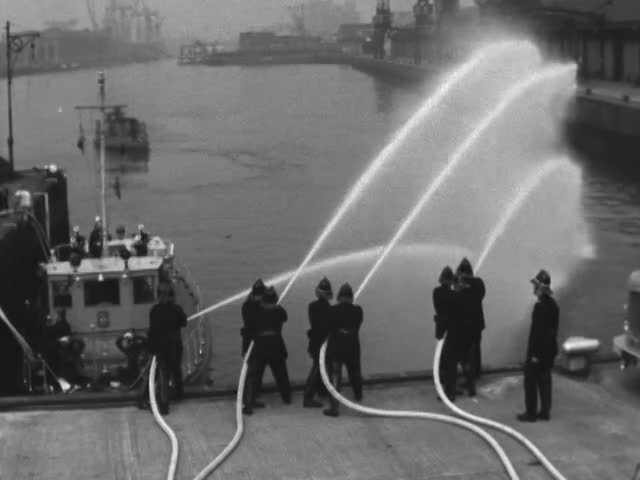 This video is not available to view remotely
Video 1

(currently displayed video)

Full length video - full length available onsite

The commander of the Glasgow Marine Fire Station at Yorkhill Quay discusses the particular challenges of fire-fighting on the River Clyde. (clip)
Please read Understanding catalogue records for help interpreting this information and Using footage for more information about accessing this film.
Title: FIRE SERVICE
Reference number: T2280
Date: 1963
Production company: pc. Scottish Television
Sound: sound
Original format: 16mm
Colour: bw
Fiction: non-fiction
Running time: 18.29 mins
Description: TV report dealing with the Glasgow Fire Service ranging from trainee firemen and the introduction of new technologies to the important role the fireboat plays in patrolling the then busy Clyde.
Shotlist: panning shot of Glasgow city scape taken from the top of a tall building (0.16) countdown leader (0.25) fire engines leaving fire station with bell alarms ringing (0.41) countdown leader (0.52) firemen on drill (1.22) talking head Iv with Mr. MacIntyre Firemaster? on the drill ground discussing the training of firemen (2.53) demonstration by trainee firemen of rescue procedures using ladders etc. on the specially constructed buildings at the training centre (4.20) iv Miss Simpson, operator of the control room at Pollok Fire Station, Glasgow with a c/u shot of the panel of automatic fire alarms connected to local businesses in the area followed by a c/u of a radio microphone and then a fire bell (5.47) the Iv is interrupted as a alarm procedure goes into operation, resulting in the firemen leaving in their engine(6.19) female reporter to camera at the Marine Fire Station at Yorkhill Quay (6.36) shot of fire boat coming into the quay with firemen demonstrating the use of their water hoses taken from the boat (7.39) reporter to camera on the quay side moving onto her boarding the fire boat "St. Mungo" (6.42) Iv with Mr. Thomson skipper of the fireboat as it sails down the Clyde, discussing the role of the fireboat on the river as it patrols the harbour area for any potential fire risks from the shipping intercut with ships sailing on the river (12.02) countdown leader (12.13) talking head Iv with Mr. Swanson at a fire station discussing modern buildings and the different fire risks caused by them compared to older buildings as well as general fire risks around the home (17.18) countdown leader (17.29) brief shot of the panel of automatic fire alarms (17.46) countdown leader (18.00) [mute] ext and int shots of council flats showing the effects of fire damage (18.29).