CONSERVATION TRANSFER OF A DECAYED SUPPORT "ST. PETER REPENTANT" BY JOSEPH RIBERA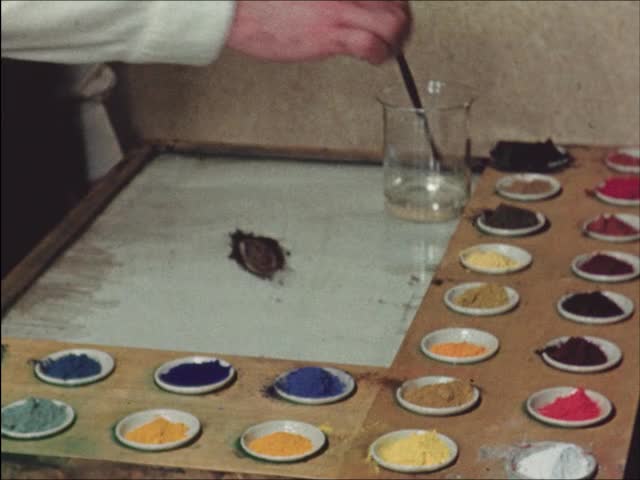 This video is not available to view remotely
Full length video - onsite only
Please read Understanding catalogue records for help interpreting this information and Using footage for more information about accessing this film.
Title: CONSERVATION TRANSFER OF A DECAYED SUPPORT "ST. PETER REPENTANT" BY JOSEPH RIBERA
Reference number: 9926
Date: 1959*
Director: filmed by C. E. Palmar
Sponsor: Corporation of Glasgow Art Gallery & Museum
Sound: mute
Colour: col
Fiction: non-fiction
Running time: 39.29 mins
Description: A detailed record of the conservation work done on the painting "St Peter Repentant" by Joseph Ribera, part of the Glasgow Museums collection.

The film-maker was Charles Palmar, a Natural History Curator in Kelvingrove Art Galleries, Glasgow from 1949 - 1984.
Credits: demonstration H. M'Lean
ph. C. E.. Palmar
Shotlist: title and credits (0.50) fine muslin cloth cut and taped to to frame. Liquid (wax?) applied to cloth with a paint brush, which is then ironed (3.16) Board is placed at the back of cloth. Conservator works with paintbrush and scalpel on sections of the painting to remove fine sections of the cloth. c/u, plastic pointer us used to highlight areas to the camera. Work continues on the canvas, conservator removing damage with a scalpel (11.03) chemicals (distilled water and acetone) are mixed to applied to the restoration with cotton wool. c/u comparison between dirty and clean piece of cotton wool from working on the canvas (12.18) c/u of canvas weave, presumably before and after cleaning (13.01) chemical (hot wax?) is applied to canvas with a paint brush then ironed. Another piece of fine cloth is placed over the canvas and taped down (17.30) liquid is applied to the fresh cloth with a paint brush then ironed. Frame is brought in to cover the canvas being worked on which has a thicker cloth attached. Weights are taped to the wooden frame. More liquid is applied to the new canvas cloth then ironed (22.02) weights are removed from wooden frame. Tape is removed from the new thicker canvas cloth. Painting is turned over and protective layer of cloth is removed from canvas to reveal the painting (24.57) cotton wool is used to apply a liquid to the canvas to assist with the removal of the cloth layers, then cleaned to reveal the painting fully restored (27.30) painting is placed upright on an easel to more work to remove surface dirt, c/u different areas (29.23) new canvas is measured and cut from preservation frame. New wooden frame is placed under the restored canvas. Clamps are used to help nail the restored canvas to the new wooden frame. Tacks are then used for the finish. A paste (gesso?) is mixed and applied to the edge of the new canvas. Conservator points to areas where the painting has been damaged. Liquid applied to canvas (35.00) New pigments are mixed to touch up the areas of damage. Conservator shows the edge restoration work as it is progressing, c/u paint work restoration. Final finishes are applied to the painting (38.39) The final restored piece [slightly oof] (39.00) The End (39.29)