ROYAL OCCASION: 22nd June 1955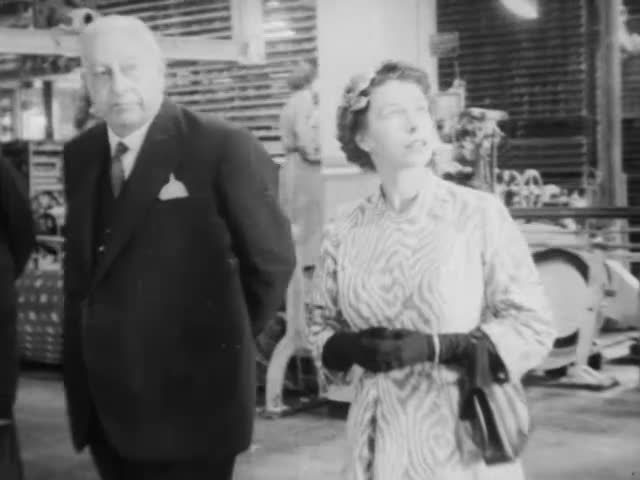 This video is not available to view remotely
Full length video - onsite only
Please read Understanding catalogue records for help interpreting this information and Using footage for more information about accessing this film.
Title: ROYAL OCCASION: 22nd June 1955
Reference number: 5043
Date: 1955
Sponsor: James Templeton & Co. Ltd
Production company: Templar Film Studios, Glasgow
Sound: sound
Original format: 35mm
Colour: bw
Fiction: non-fiction
Running time: 8.45 mins
Description: A record of a visit to the carpet manufacturers, Templeton & Co. Ltd, by H.M. Queen Elizabeth and H.R.H. Duke of Edinburgh in 1955.
Shotlist: H.M. Queen Elizabeth and H.R.H. Duke of Edinburgh visit the factory of James Templeton & Co. Ltd. carpet manufacturers, Glasgow (0.29) Queen's entourage (Lady-In-Waiting and Lord Provost of Glasgow) arrive by car at Templeton's carpet factory and visiting party are greeted as they enter by Managing Director, Mr. John Anderson and Chairman (1.05) ints factory as Queen walks around; shots of girls sewing carpets by hand (1.39) gvs tour of design workroom where patterns are laid out, artists paint and the Queen talks to people, including Chief Designer, Mr. Hugh McKenna; shot of her speaking to employee, Mr. John Eadie, who had seen service with the company for 73 years (2.46) gvs Royals watching carpet making processes, including spooling, weaving and trimming (4.13) gvs tour of carpet showroom, with rugs and carpets on display, including antique rugs, reproductions and a carpet depicting Christ blessing the little children, woven in 1876 for the Paris Exhibition (7.45) Royals depart, cheered by crowds and photographers (8.20) ecs (8.45)