1959 SCOTTISH INDUSTRIES EXHIBITION, the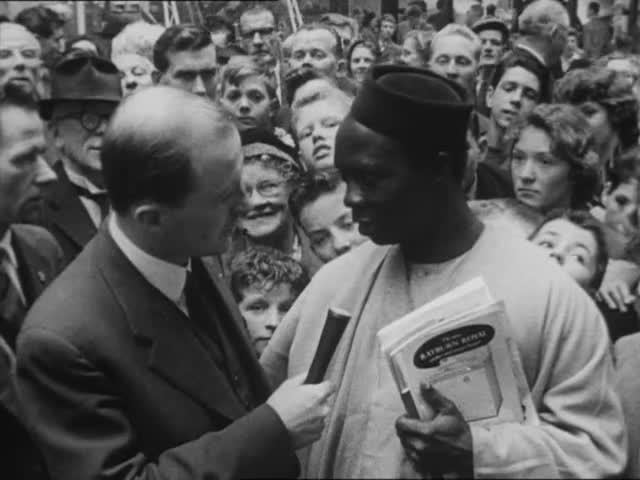 This video is not available to view remotely
Full length video - onsite only
Please read Understanding catalogue records for help interpreting this information and Using footage for more information about accessing this film.
Title: 1959 SCOTTISH INDUSTRIES EXHIBITION, the
Reference number: 1109
Date: 1959
Sponsor: Council of Management
Production company: Glasgow Films Limited
Sound: sound
Original format: 16mm
Colour: bw
Fiction: non-fiction
Running time: 17.21 mins
Description: Scenes of the Scottish Industries Exhibition at the Kelvin Hall, Glasgow in 1959. Princess Margaret opens the event.

See also ref 4289 and ref 0470 for more footage of the Scottish Industries Exhibition.
Credits: sp. Council of Management [1959 Scottish Industries Exhibition] [possibly BBC news film?]
Shotlist: No credits. Shot of exterior of Glasgow University with pan to commentator standing in front of Kelvin Hall (0.43) ints. exhibition in Kelvin Hall and iv. with General Manager, Matthew Donaldson (3.03) ints. of wine cellar (3.23) iv. with Matthew Neil (5.12) [blank] (5.25) shots of the platform party. Lord Polwarth welcomes Princess Margaret to open the exhibition (6.21) ls Princess Margaret delivers opening speech. [Mute] royal party tours exhibition (8.44) ext. shot of City Chambers, and shots of the Princess leaving by car in direction of North Frederick Street (9.01) [s/t returns] [blank] (9.15) ints of exhibition (9.38) iv. with Charles Oakley (10.25) iv. with a representative of the Gypsum panel stand (10.51) iv. with a representative from an engineering stand (11.24) iv. with a visitor from Nigeria (11.45) iv. with representative from engineering stand with sound recordist from the welding stand (12.24) int. with interpreter (12.52) shots at the rail-van stand (13.24) brief interviews with exhibitors concerning the orders they have taken during the course of the exhibition (15.12) iv. with a member of the British Institute of Management (15.38) iv. with representative of Flexi-tubing (16.49) iv. with a representative from the Scottish Council of Development and Industry (17.21)