IONA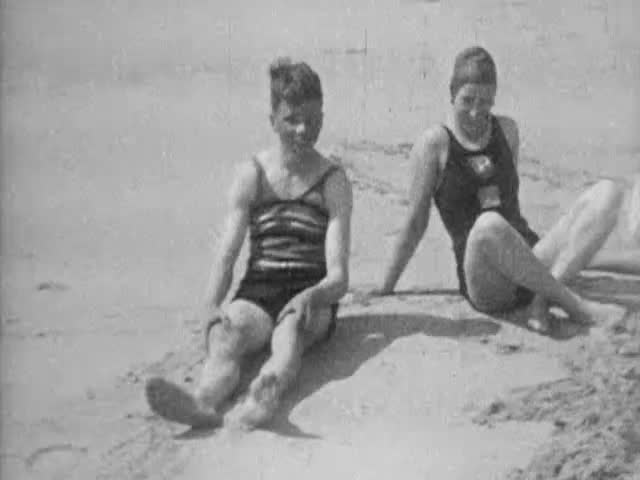 This video is not available to view remotely
Full length video - onsite only
Please read Understanding catalogue records for help interpreting this information and Using footage for more information about accessing this film.
Title: IONA
Reference number: 3398
Date: 1932 - 1934
Director: [filmed by Taylor]
Sound: silent
Original format: 9.5mm
Colour: bw
Fiction: non-fiction
Running time: 10.00 mins
Description: Amateur footage showing aspects of life on Iona during the early 1930s. Includes holiday footage showing a family enjoying swimming and sunbathing with friends.
Shotlist: [1932] IONA a Home Movie Production. pan along Oban frontage from boat; boats passed en route to Iona; Staffa & Fingals cave (0.36) tracking shot approach to Iona and disembark (1.09) man outside post office, possibly Bunty Cadell [Scottish colourist painter]; second man Iain MacKenzie; possibly postmaster Charlie MacPhail, leaning against post office wall (1.21) four children walk along lane; sheep being taken down jetty; (1.37) Mr Kirkpatrick with his three sons, Charlie, Hector and David in a small boat; older man paddling in surf, with a pipe (2.12) shots of family group, on a garden bench; RMS Loch Fyne (2.26) [1933] A Home Movie Production c/u man plays bugle; 360 degree pan along village, shore; waiting room (3.22) people walk down jetty to small boat; group of young people sunbathing (3.55) passengers on boat, alighting; swimming in the bay (5.00) [1934] IONA tracking shots from a boat approaching Iona (5.15) boy plays bugle; family line up (5.38) people leaving on small boat; RMS "Loch Fyne" (5.53) shots of people waiting near the jetty; boats arrive (6.43) brief shot prune stone spitting; passengers on boat; leapfrog and acrobatics on beach; diving from a large stone; sandcastles and sand sculptures; sunset (9.02) tracking shot of jetty as boat leaves, man in crowd is playing bugle (10.00)