AULDHOUSE CINEMAGAZINE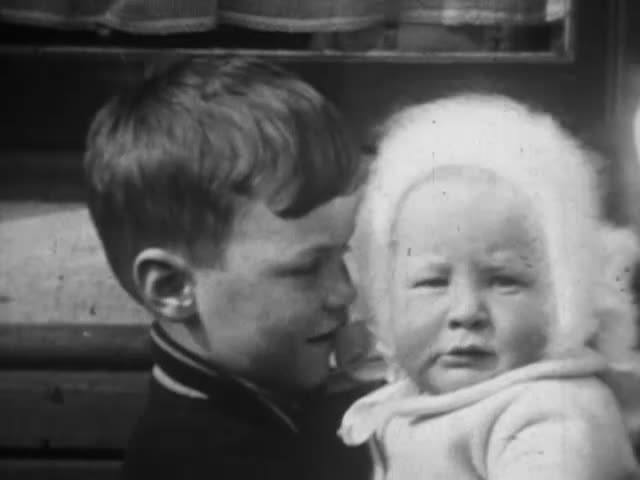 This video is not available to view remotely
Full length video - onsite only
Please read Understanding catalogue records for help interpreting this information and Using footage for more information about accessing this film.
Title: AULDHOUSE CINEMAGAZINE
Reference number: 1629
Date: 1937 / 1938
Director: filmed by Robert Allison
Sound: silent
Original format: 9.5mm
Colour: bw
Fiction: non-fiction
Running time: 17.06 mins
Description: Footage of the Allison family in their garden, holidaying in Arran and at the Empire Exhibition.

Made by Mr Robert Allison, a member of the SEFA (Scottish Educational Film Association) Dunbartonshire Group.
Shotlist: THE AULDHOUSE CINEMAGAZINE 1937 - Easter 1937 - Our first holiday with a cine camera - women reading letter outside house, baby in pram - gvs train entering station and family members getting off - gvs family on steamer at pier, then arriving at Dunoon (1.25) family sitting in garden, children posing for camera - gvs family out walking, then at boating pond - gvs on board steamer (2.13) SUMMER - A VISIT TO THE LOCAL ZOO AND TEA WITH ONE OF THE WILD ANIMALS - THE LESSER CHIPMUNK (VERY WILD) - shots of toddler in playpen and family having tea in garden - shots of family at play in garden and woman plucking bird - boy pretends to be a snake charmer (4.44) WE GO WEST TO A FARM IN ARRAN. [ ] - gvs family walking past farm, relaxing in sun - boys let loose kittens and lamb (5.50) gvs at beach, adults run into water, children paddling - gvs mother leaving house, baby in pram, going to visit older woman - gvs family walking around with toddler and having picnic - 1937 THE END (8.20) THE AULDHOUSE CINEMAGAZINE 1938 - EASTER, AND EASTER EGGS! [ ] - gvs family, children in farmyard with chickens - c/u boy holding chicken (9.27) THE EMPIRE EXHIBITION GLASGOW [ ] - gvs on street, naval battalion marches past - royal carriage passes with King George VI and Queen Elizabeth - gvs Empire Exhibition - entrance on Paisley Road West, fountains, commonwealth pavilions, military band playing - ls avenue, fountains - SCOTLAND IN MINIATURE - AN CLACHAN - gvs of same, with visitors walking around and queuing (11.30) SUMMER, AND OFF WE GO ON HOLIDAY - shot of family packing car - c/u animated map showing route from Glasgow to Banff - gv bridge and shore - family sitting on wall at roadside, cottages (12.16) SAND FLEAS written on sand - gvs children playing on beach, women sitting knitting on rocks - children playing on beach, paddling, being given sweets - shot from train departing from Banff Bridge station (13.20) BACK FROM HOLIDAY WE RETURN TO THE EXHIBITION, [ ] - gvs family walking around exhibition site - gvs 'Skegness Special' miniature railway - Crazy House - gvs and tracking shots of fairground rides - gvs family having tea, exhibition site in background (14.57) IN AUGUST WE VISIT THE ALLISONS AT APPLEBY - gvs car arriving at 'Office', women getting out and being greeted - women and children playing in park - THE APPLEBY ALLISONS COME TO GLASGOW IN SEPTEMBER - gvs family on board steamer on firth of Clyde, on seashore at Gourock? - family playing in garden - 1938 THE END (17.06)