MAVOR FAMILY FILM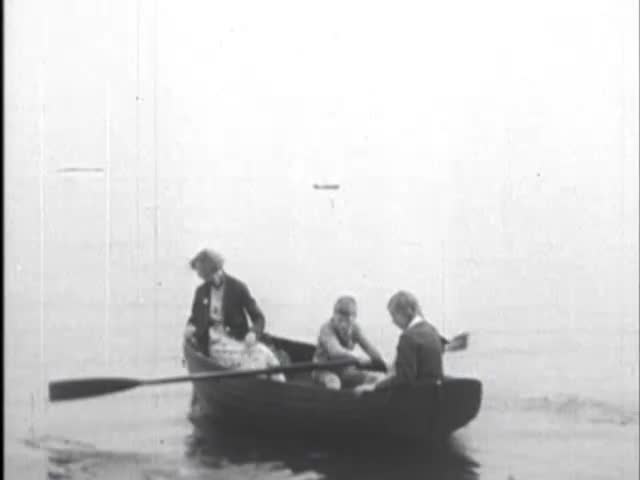 This video is not available to view remotely
Video 1

(currently displayed video)

Full length video - full length available onsite

Mavor family film, showing family beach scenes, such as boy in rompers on beach and baby being put in pram. Note the old style beach huts and swimming costumes. (clip)

Mavor family film, showing three schoolgirls enjoying ice-cream bought from a street seller. (clip)
Please read Understanding catalogue records for help interpreting this information and Using footage for more information about accessing this film.
Title: MAVOR FAMILY FILM
Reference number: 1578
Date: 1932
Director: filmed by Jack Mavor
Sound: silent
Original format: 16mm
Colour: bw
Fiction: non-fiction
Running time: 7.58 mins
Description: Family film shot mostly by Jack Mavor, of Mavor and Coulson, showing holidays at Brodick, Arran, walking at Glen Sannox, and at the family home "Gateside" at Drymen.

Jack Mavor was the brother of O H Mavor (alias James Bridie, playwright)
Shotlist: No credits. Small boy, John Mavor junior, in bedroom of family home at Kirklee Gardens, Glasgow (.07); Brodick, Arran, July 1932. Shots of pier as coal is loaded by bucket and winch onto vessel, "Miss Crawford" (.21); Mavor family in boat (.31); - Blank - (.40); Shots of Mavor family on the beach near Brodick. General views of beach huts and bathers. One of the girls kisses the boatman (1.33); - Blank - (1.37); Brief shot of family walking in Glen Sannox. Shots of family leaving the holiday home at Brodick for return journey to Glasgow. General views of leaving house, shots at Brodick pier as passengers wait for the 6.00 am ferry (1.59); The PS "Glen Sannox" arrives at pier (2.11); Shots as passengers embark (2.24); Two girls rush late onto pier [miss the sailings], steamer pulls away. General views of vessel leaving the bay (2.53). Friends/family wave farewell (2.58); Shots of a man in a garden, possibly Jack Mavor. Shots of toddler on balcony (3.31); Shots of three girls in road buying ices from ice cream tricycle (3.44); I do like a ni sise creem [sic] Close-up of Jack Mavor eating an ice-cream (3.57); - Blank - (4.17); Shots of family group in the grounds of "Gateside", Drymen, family home of O H Mavor. Included in the group are Mr and Mrs O H Mavor, Mrs Jack Mavor [on the left] and another unidentified couple. Pan round view from house. (5.05); Exterior shot of house (5.12); Close-up of Mrs Jack Mavor. Shots inside as party sit down to afternoon tea [dark] (5.38); "Ann Again" takes the water. [Caption only] - Blank - (5.57); Ann Again" in the Crinan. Shots of the family yacht "Ann Again" passing through locks at exit of Crinan Canal to the Irish Sea. General views of locks, buildings at Crinan and surrounding scenery. Jack Mavor (with pencil moustache) and Mr Kirsop (balding man, connected with the hat trade) crew the yacht (7.58).