ST. VALERY: Last Post for the 51st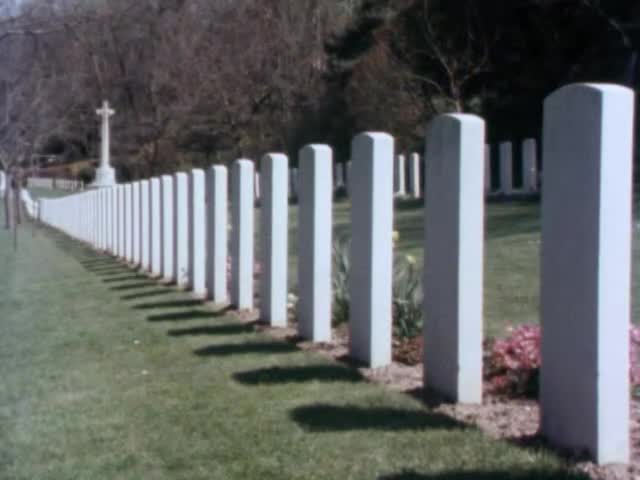 This video is not available to view remotely
Video 1

(currently displayed video)

Full length video - full length available onsite

A soldier and an officer from the 51st Highland Division describe their retreat to St. Valery in the face of Rommel's Panzer divisions. (clip)

The story of the 51st Highland Division in Normandy during World War II, from those who were there. (clip)
Please read Understanding catalogue records for help interpreting this information and Using footage for more information about accessing this film.
Title: ST. VALERY: Last Post for the 51st
Reference number: N1063
Date: 1980
Director: d. Christopher Kay
Sound: sound
Original format: 16mm
Colour: col
Fiction: non-fiction
Running time: 27.20 mins
Description: Overview of the history of the 51st Highland Division in Normandy during WW2. Illustrated with photographs and German archive film.
Credits: narr. Bill Jack
stills ph. John Thomson
film cam. Malcolm Campbell
dub. mixer Sandy Craib
sd. rec. Ino Visser
p.ass. Barbara Dickie
exec. p. Ted Brocklebank
ass.film ed. Barrie Graser
film ed. Marion Ritchie
programme ed. Alistair Gracie

Shotlist: Grampian Colour (0.06) int. talking head Aberdonian former soldier (0.27) title over image of tide on stony beach (0.45) war cemetery, "The news came like another Flodden, there was hardly a household in Scotland that had not a cousin in one of the Highlands Regiments" Eric Linklater (1.03) b&w archive film of advance of German army in France (1.27) newspaper clipping 'Last Troops leave Dunkirk' (1.32) pan vehicles on Dunkirk beach (1.41) b&w archive film German tanks crash through undergrowth (2.06) ext. talking head elderly German former soldier (2.21) ext. talking head elderly English former soldier (2.32) various b&w photographs 51st in uniform, at rest (3.48) ext. on beach, talking head former soldier from North East (4.20) b&w still soldier (4.31) ext., panoramic view Edinburgh from castle ramparts, talking head elderly English former soldier (4.44) ext. on beach, talking head former soldier from North East (5.00) ext. talking head elderly English former soldier (5.19) b&w archive film German soldiers loading big guns (5.39) talking head elderly English former soldier (5.46) b&w still De Gaulle (6.05) archive film German soldiers (6.18) b&w still Rommel (6.28) ext. talking head elderly German former soldier (6.35) map St. Valery and Abbeville (6.55) b&w archive film German tanks and army fighting towards coast (7.20) b&w archive film French soldiers and refugees (7.40) b&w still Scottish boy in highland dress (7.51) talking head boy as man, former soldier (8.20) b&w still soldier in uniform (8.30) ext. talking head Aberdonian former soldier (8.44) ext. talking head elderly English former soldier (9.18) b&w archive film German warfare in St. Valery and destruction left (10.47) b&w still St. Valery harbour (10.57) ext. talking head former soldier from North East (11.12) ext. talking head elderly English former soldier (12.03) ext. talking head elderly German former soldier (12.38) b&w archive film German stukka planes (12.46) b&w stills damage in St. Valery, Major- General Victor Fortune (13.07) b&w archive film surrender of British soldiers including the 51st (13.32) ext. talking head former soldier from North East (14.16) b&w archive film Navy ships off the coast and German soldiers firing on them (14.38) b&w still British soldiers climbing beach steps (14.44) film of steps today (14.53) b&w still boy in uniform (15.00) int. talking head former soldier (15.08) b&w still of man smiling (15.17) int. talking head another former soldier (15.30) int. talking head another former soldier (16:16) b&w stills of 2 soldiers (16.26) int talking head another former soldier (16.52) ext. talking head elderly German former soldier (17.02) St. Valery cliffs today (17.11) b&w still of mass of soldiers on cliff (17.22) ext. talking head elderly German former soldier (17.32) b&w still Rommel with British prisoners (17.48) ext. talking head elderly German former soldier (18.13) b&w archive film British prisoners being marched through French town (18.29) int. talking head former soldier (18.44) ext. talking head former soldier from North East (18.48) b&w still prisoners on small guage railway in Holland (19.08) ext. talking head former soldier from North East (19.23) b&w still prisoners on small guage railway (19.42) newspaper clipping from Press and Journal, 'British Last Stand at St Valery' (19.51) b&w archive film French and British prisoners marching (20.16) b&w still 51st Scots pipe band marching into St. Valery (20.32) ext. talking head elderly English former soldier (20.40) b&w still 51st Scots pipe band marching into St. Valery, other stills of 51st (21.16) gvs St. Valery today (21.51) granite memorial to 51st Highland Division overlooking harbour, gvs cliffs (22.19) int. talking head former soldier (22.44) int. talking head another former soldier (22.49) remains gun emplacement in St. Valery today (22.58) ext. talking head elderly German former soldier (23.49) ecs, over c/u flowers at headstone and c/u's other soldiers headstones in military cemetery, birdsong audible (26.40) former soldier from North East walking along beach (27.02) Grampian Colour (27.20)