LAST OF THE HUNTERS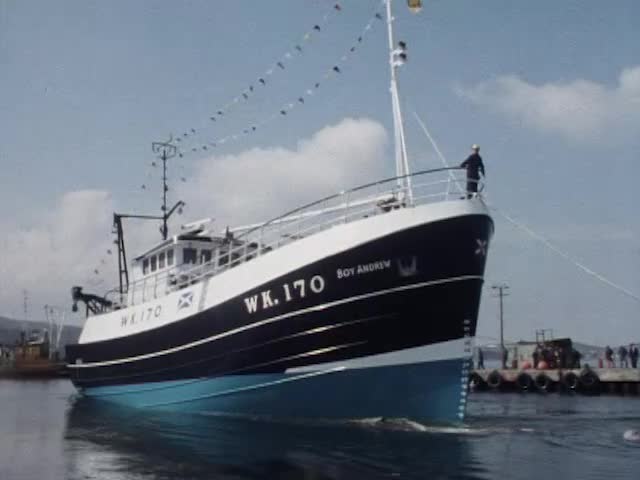 This video is not available to view remotely
Video 1

(currently displayed video)

Full length video - full length available onsite

The benefits to Ullapool's economy of the presence of the Eastern European workers coming ashore from the factory ships. (clip)

Locals in a north-east fishing village discuss working on the Sabbath and the dangers of over-fishing. (clip)
Please read Understanding catalogue records for help interpreting this information and Using footage for more information about accessing this film.
Title: LAST OF THE HUNTERS
Reference number: N1066
Date: 1986*
Director: d. M. Steele
Sound: sound
Original format: 16mm
Colour: col
Fiction: non-fiction
Running time: 54.09 mins
Description: Detailed documentary on the state of the fishing industry in the mid to late 1980's. Issues covered include new technology, larger ships, livelihoods and reduced quotas. Nicely illustrated with some short pieces of archive footage.
Credits: ed. C. Main
Shotlist: Large fishing boat in stormy seas (0.15) POV from boat (0.20) c/u man's eyes, zoom into sonar (0.30) elevated view from boat (0.38) gvs fishermen, stormy seas (0.49) mass of fish pouring in (0.58) c/u ship, 'Boy Andrew' at launch in Campbeltown, gvs dignitaries, v/over skipper Andrew Bremner (2.05) dignitaries board ship (2.30) gvs 'Boy Andrew' (2.45) Norrie Bremner, father and skipper (2.58) Wick port, deserted harbour (3.23) colour archive film very busy Wick harbour in late 1930's. Unloading of steam drifters (3.47) ext. talking head elderly ex-fisherman beside nets (3.55) colour archive film steam drifters approaching and departing Wick harbour. Unloading of fish (4.21) c/u painting of old fishing sailboats (4.34) ext. Bremner Fishing Co. Ltd, Andrew Bremner gets out of his BMW (4.48) int. people at meal, Bremners discussing decreasing fish size with business partners (5.17) 'Boy Andrew' at sea, Andrew Bremner on bridge (6.04) gvs technology on board including echo-sounders, videoplotters (6.39) on board kitchen and canteen (7.23) 'Boy Andrew' at sea (7.38) Andrew in bunk (8.07) Norrie at home listening to various fisheries wavebands on radio (8.26) Rockall, most westerly outcrop of British Isles, gvs bridge technology intercut with c/u Andrew Bremner (8.54) crew at work deploying nets (9.55) net being winched in, but small catch of poor fish (11.18) Andrew Bremner on bridge on radio to father (12.01) larger haul of haddock the next day, which is unwieldy to handle (12.55) offloading part of the catch to sister ship, 'The Opportune' (13.08) crew gutting and boxing fish (14.01) Peterhead fish market (14.31) Peterhead harbour, fish is unloaded to fish market which is now busy with buyers (16.10) fleet of lorries heading south on motorway (16.26) gvs debris in water at port of Hull, ruins of ice factory and fish works intercut with talking head of man about decline of port (17.24) footage from Royal Navy ship during 'cod war' as an Icelandic gun boat collides with it (18.00) int. talking head different man (18.22) ruins at port of Hull, talking head first man (18.40) gvs Terry Taylor's deep sea fishing trawler 'Maureen June' (one of only five) at Aberdeen, crew preparing for departure (19.22) trawler departs Aberdeen (20.13) trawler at sea intercut with shots of bridge (21.26) Press and Journal headline 'Trawler Stranded' (21.42) Taylor's trawler deploying nets, v/over Taylor. Deploying nets at night, landing of huge cod catch (23.15) gvs Aberdeen fish market, brief intercut with talking head Ian Wood of Wood group, owners of Taylor's trawler, 'Aberdeen no longer a trawling port' (24.13) Taylor and other man raise glasses, talk about quotas (25.12) talking head Ian Wood (25.36) plans of Taylor's new 130ft boat (£2.2 million) as he plans to go it alone (26.39) gvs Wood group party for Taylor and crew (27.20) gvs Taylor's old trawler at sea (28.42) blank, leader (29.01) pan Crivie village on coastline (29.30) gvs fishing village, cottages, nets, Gospel hall, streets, harbour (30.14) int. talking head elderly man intercut with gvs village (30.36) ext. talking head elderly man about coming famine (30.47) int. talking head two elderly women (31.00) b&w archive film fishwives (31.42) col film fishwives (31.58) skipper Andrew Tait jogging (32.21) Tait's large house, playing badminton with his one-armed brother Willie in indoor sports complex (34.30) ext.woman driving Jaguar XJS to modern house. Int, Willie in swimming pool, wife places baby in pool in rubber ring (36.32) b&w photo Andrew and Willie as deckhands with their mate father (36.41) ext. Rolls Royce, driven by Willie (37.06) c/u fishing painting int. house, pan back to brothers talking (37.48) tracking shot brothers' new ship 'Philorth" in stormy seas, brothers on bridge (39.36) gvs deploying of nets at night (40.20) gvs net being reeled in at dawn, huge catch of mackerel. Fish 'hoovered' on board by hydraulic pump (42.24) Ullapool, East European factory ships, 'Klondykers', await offshore (43.15) 'Philorth' puts into Ullapool (43.26) Ullapool, East Europeans ashore stocking up on groceries and visiting shops (44.39) 'Philorth' alongside Klondyker, loading fish intercut briefly with European Union flag in Brussels (47.02) int. shiptalking head Captain Karl Heinze Krauss, East German Fleetmaster talking with Andrew Tait (47.49) processors at work gutting and filleting (48.45) 'Philorth' moves on (49.05) ext. EU, Brussels (49.22) int. hotel, UK fishing industry leaders lobby Minister John McKay about quota cuts (50.32) large ships at night-time (51.31) 'Boy Andrew' (52.09) Andrew Bremner in bridge, v/over about his failed marriage (52.38) Terry Taylor on bridge, gvs his boat, v/over about experience (53.00) Tait's on bridge, gvs boat at sea (54.09)