DADDY'S GONE A-HUNTING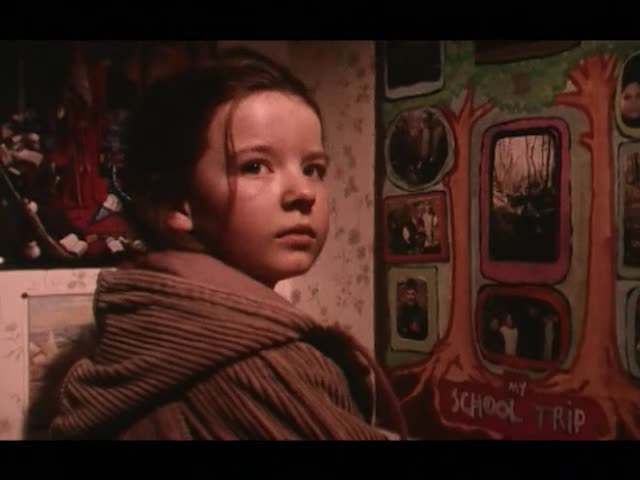 This video is not available to view remotely
Full length video - onsite only
Please read Understanding catalogue records for help interpreting this information and Using footage for more information about accessing this film.
Title: DADDY'S GONE A-HUNTING
Reference number: 7531
Date: 1994
Director: d. Morag Fullerton
Sponsor: BBC Scotland, Scottish Film Production Fund
Producer: Julie Fraser
Production company: Umbrella Television
Sound: sound
Original format: 35mm
Certificate: 12
Colour: col
Fiction: fiction
Running time: 12.13 mins
Description: A modern fairytale. "Swing high, swing low, swing as far as you can go. up tae Heaven, down tae Hell. Whit's in between? Who can tell?". Eleven year old Gemma is a captive, like the animals which fill the menagerie which is her home. The keeper of all this is Gemma's father, Jimmy. His prize possession, Boner, a pit bull terrier, is due to fight that night. Tension escalates when Boner wolfs down Gemma's supper straight off her plate. Her mother' protests are met with a tirade of abuse. The dog is going to win Jimmy a lot of money. Gemma is banished, supperless to the sanctuary of her bedroom: a little girl's haven where dreams can come true, where magic can happen... [synopsis from Scottish Screen Catalogue of Short Films 1993 - 1999 "Kicking up a Storm"]

Production file held at National Library of Scotland Moving Image Archive. Script also held at the Scottish Theatre Archive, Glasgow University. Ref. code GB 247 STA Jy 17(3)

Tartan Shorts: A joint short film initiative funded by BBC Scotland and Scottish Screen National Lottery Fund. Three films per year commissioned for theatrical release and broadcast.
Credits: Gemma Fiona Kennedy
Babs Cara Kennedy
Jimmy Stevie Hannan
Jimmy's Mates Stewart Porter, Jim Byars, William McBain
Kittens Man John Deehan
Brandy Woman Alicia Devine
Hoodlum's Owner Rab Affleck
Man's Mate Tony Curran
Jason's Mum Becky Baxter
Boner Cass

w. Kathy Crombie
d. ph. Stuart Wyld
p. designer Graham Rose
film ed. Fiona MacDonald
composer Craig Armstrong
sd. rec. Peter Brill
p. man. Graeme Gordon
costume designer Fiona King
make-up designer Cheryl Mercer
ass. film ed. Ian Adams
dubbing mixer Bronek Korda
camera ass. Stephen O'Donnell
boom operator Stuart Wilson
dubbing ass. Paul Wilson
camera grip Derek Kerr
gaffer Willie Cadden
electrician John Duncan
prop buyer Douglas Harvey
action props Stuart Watters
musicians Anthea Haddow, Colette Ruddy, Mary Jones
location man. Shirley Sinclair
p. ass. Elizabeth Sherry
2nd ass. d. / locations Brian Horseburgh
locations ass. Katie Kinnaird
3rd ass. d. Jane McCall
art dept. runner Ruth Moore
p. runner Stephen Newlands
titles Paperdart
rostrum Studio 51
cutting room facilities Pelicula Films Ltd.
film processing Rank Film Labs.
chaperone David Wallis
animals by Creature Feature
catering by Exquisite Scoff
lighting Lee Lighting Ltd. (Scotland)

With many thanks to Patricia McGinty, William Best, Dr. Edwards, Mugdocl Country Park, Clydebank District Council, Mr. Gossall, Arnold Clark, Startchambers, Jay Coaches, The Renfrew Ferry

exec. p. Andrea Calderwood, Paddy Higson

No animals were harmed in the making of this film and all were professionally cared for. An Umbrella Television Production for BBC Scotland and the Scottisdh Film Production Fund. © BBC Scotland MCMXCIV