BILLY AND ZORBA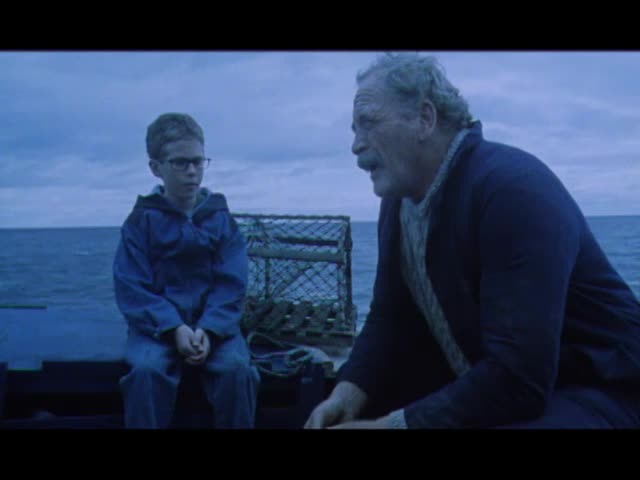 This video is not available to view remotely
Full length video - onsite only
Please read Understanding catalogue records for help interpreting this information and Using footage for more information about accessing this film.
Title: BILLY AND ZORBA
Reference number: 7276
Date: 1999
Director: d. Brian Kirk
Sponsor: BBC Scotland and Scottish Screen in association with The Scottish Arts Council National Lottery Fund
Producer: Gaynor Holmes
Production company: Santuri Film in association with Ideal World Films
Sound: sound
Original format: 35mm
Colour: col
Fiction: fiction
Running time: 19.04 mins
Description: In a decayed Scottish fishing village, an outcast boy strikes up a friendship with a fisherman who believes himself to be Zorba. [synopsis from Scottish Screen Catalogue of Short Films 1993 - 1999 "Kicking up a Storm"]

Production file and script held by National Library of Scotland Moving Image Archive. Post production script also held at the Scottish Theatre Archive, Glasgow University. Ref. code GB 247 STA Jy 17(12)

Tartan Shorts: A joint short film initiative funded by BBC Scotland and Scottish Screen National Lottery Fund. Three films per year commissioned for theatrical release and broadcast.
Credits: w. Ed McCardie

Zorba James Cosmo
Billy Iain de Caestecker
Mhairi Deirdre Davis
Black Robert Cavanagh

p. man. Carole Sheridan
d. ph. Adam Suschitsky
designer Mark Leese
composer Joe McAlinden
ed. James Hamilton
sd. rec. Phil Croal
costumes Anna Lau

1st ass. d. Aidan Quinn
2nd ass. d. Carl Oprey
3rd ass. d. Michael Campbell
location manager Stephen Burt
location ass. Ruth Ralph
sc. superviser Ella MacLean
p. co-ordinator / choreographer Liz Ingram
p. accountant Jillian Morris
ass. acoountant Fiona Menzies
p. runner Glenda Rome
focus puller Scott Ward
clapper loader Simon Vickery
grip Lucien Grieve
gaffer Derrick Ritchie
electrician William Kelly
lighting ass. Paul Shirley
boom operator John Currie
stills ph. Charlie Crawford
dubbin ed. Bronek Korda
dubbing mixer Doug Murray
art d. Caroline Grebbell
stand-by props Mat Bergel
art dept. ass. Christina Robertson, Paul Harkins, Sarah Bremner
chippie Mark Breslin
make-up artist Catherine Muir
make-up ass. Karen Osterberg
costume ass. Amelie Harper Gow
stunt co-ordinator Joe Condren
stunt double Ray Ahearn
boat skippers Finlay Smith, Alexander Gatt
chaperone Linda de Caestecker
unit nurses Kenny McGhee, Lisa Smith

2nd Unit
p. man. Stephen Burt
make-up artist Julie MacKay
wardrobe Robby McCulla, Gill Horn
stunt co-ordinator Yvon Tsan
locations ass. Stephen Bennett
3rd ass. d. Ben Smith
boom operator James Callaghan
unit driver Andrews Simpson
skipper Albert Ritchie
insurance Aon
catering Angela Morris, Broom Restaurant
diving services Broch Diving Services
camera equipment GHS
stock Kodak, Fuji
processing Soho Images
neg cutting Tru Cut
dubbing studio Ardmore Sound

All music performed by Superstar courtesy of Camp Fabulous Records, Montana Music

with special thanks to Joan Rennie, The Crovie Preservation Society, Philip and Angela Morris, The Dower Hotel, The Banff Springs Hotel, The Waterside Inn, Lee Lighting, Hamish Harbour, Angus Lamont and all the staff at Ideal World, David Leese, Jacqueline Rattray, Sound Control Glasgow, Park Lane Studios, Jona Cox, Kenny MacDonald, Katherine King and Alan Radcliffe at ICM, Bernadette Kirk, Eileen Fidelo, Angus' Dad

shot on location in Crovie, Aberdeenshire

completed with the financial assistance of Aberdeenshire Council, North & West Grampian Leader II Programme, Glasgow City Council

exec. p. Victoria Davis, Dan MacRae

A Santuri Film in association with Ideal World Films for BBC Scotland, Scottish Screen, Scottish Arts Council National Lottery Fund.

Copyright BBC