GLASGOW BY THE WAY: Ken Currie Working On Preliminary Stages Of Painting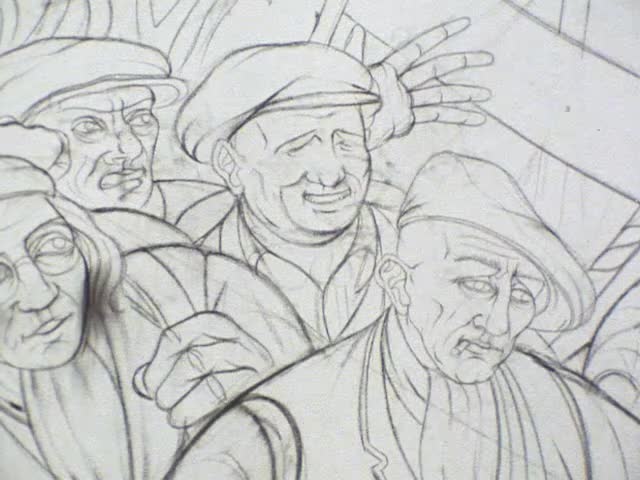 This video is not available to view remotely
Full length video - onsite only
Please read Understanding catalogue records for help interpreting this information and Using footage for more information about accessing this film.
Title: GLASGOW BY THE WAY: Ken Currie Working On Preliminary Stages Of Painting
Reference number: 4888
Date: 1987 - 1988
Director: [d. Diane Tammes]
Sponsor: [ Channel 4]
Producer: [ Seona Robertson]
Production company: [ Reality Productions]
Sound: sound
Original format: 16mm
Colour: col
Fiction: non-fiction
Running time: 6.00 mins
Description: Shots of Glasgow artist Ken Currie working in his studio on the preliminary stages of one work in a series commissioned for the People's Palace on a Socialist Theme.

[Please note that sound, where it exists at the beginning of this film, is rough and incomplete. This film is unedited, raw, footage.]

See also ref. 4881 for more footage of Ken Currie.
Credits: [p. Seona Robertson]
Shotlist: Int. studio; Ken Currie working on a canvas in charcoal on Fight or Starve...Wandering Through the Thirties, referring to a scale plan of his composition; c/u photocopies of photographs of marches etc.; KC stands back to look at his work; c/u sections of charcoal drawing (3.15) gvs same (6.00)