FIDDLERS OF JAMES BAY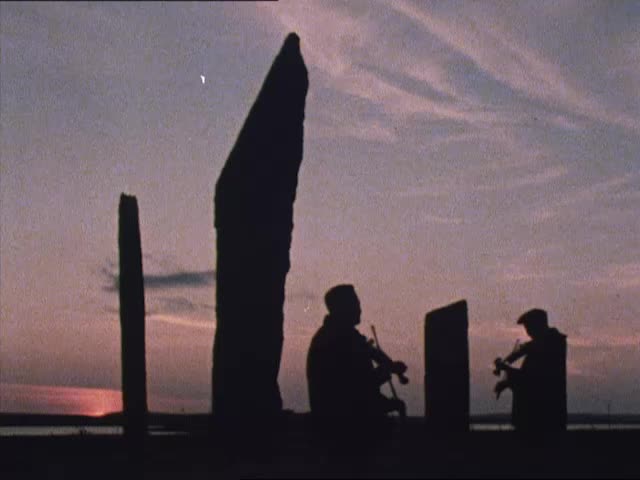 This video is not available to view remotely
Video 1

(currently displayed video)

Full length video - onsite only

Cree fiddlers play - intercut with still photographs of Scottish ancestors. (clip - onsite only)
Please read Understanding catalogue records for help interpreting this information and Using footage for more information about accessing this film.
Title: FIDDLERS OF JAMES BAY
Reference number: 4373
Date: 1980
Director: d. Bob Rogers
Sponsor: National Film Board Of Canada
Production company: Nishnawbe Institute
Sound: sound
Original format: 16mm
Colour: col
Fiction: non-fiction
Running time: 28.27 mins
Description: Explores the Scottish ancestry of Cree people living near James Bay in Canada. The film follows two Cree fiddlers, Ray Spencer and Bob McCloud, on their journey from Canada to perform in a series of fiddle concerts with the Orkney Strathspey and Reel Society in Stromness.
Credits: ed. David Wilson
exec. p. Peter Katadotis
p. Bob Rogers & Mark Zannis
p. co-ordinator Grace Avrith
ass. p. Gail Singer
ph. Richard Stringer; David Peat; Jan Peter; Michael Coulter & Buckley Petawabano
sd. rec. Bob Lower; Gail Singer; Ian Leslie; Don Doug
Shotlist: ocs (0.08) Cree fiddler Ray Spencer rosins his bow; Title (1.16) Orkney fiddlers gathered around cassette recorder listen to a tape of Spencer's music (2.30) still photograph of Spencers' great grandfather; i/v Bill Anderson, Fort Albany Hudson's Bay Company Factor, about settling in Canada (4.29) still photographs (4.53) i/v Ruby McCloud (5.28) still photographs of Crees; sailing ship the Mink (5.58) i/v Charlie Lutot? (6.12) stills of Cree holding fiddles (6.38) i/v Cree, Bob McCloud; v/o McCloud playing "The White Cockade", pan over ice floes, then cliffs [Orkney?] (7.58) group of Orkney fiddlers (8.44) gvs Orkney; c/u Login's Well inscription "There watered here the Hudson Bay Company's Ships 1670-1891" (10.02) boat comes into Stromness harbour; two Cree fiddlers, Bob McCloud and Ray Spencer, are greeted; Ray Spencer gives a gift of money to a red haired toddler in the welcoming group (11.36) Gvs the two men walking along a Stromness street. both look at a sign "Cree Indian Fiddle Concert, Stromness Academy" (12.08) Gvs at the first concert, held that night; Spencer and McCloud play with the Orkney orchestra; v/o mentions that Cree fiddlers always play solo; c/u Len Wilson, concert organiser gives an introduction; views concert, Crees have some trouble playing; play their own version, and the Orcadians try to join in (15.51) c/u HBC stone; shot Ray and Bob looking at domestic geese (17.24) gvs at Orkney agricultural show; the Queen arrives and spends time meeting the crowds, BM and RS look on (19.53) gvs fiddle orchestra rehearsal with the two Crees, v/o speaks about fiddler's mutual difficulties in following the other style, Orcadian or Cree; i/v Len Wilson (21.42) the two Crees playing inside standing stones (23.31) gvs the final concert (24.49) farewell party for the two Crees (25.59) Ray Spencer plays for a Cree audience ecs are overlaid (27.16)