GOLF TRIP BY STEAM TRAIN TO ST. ANDREWS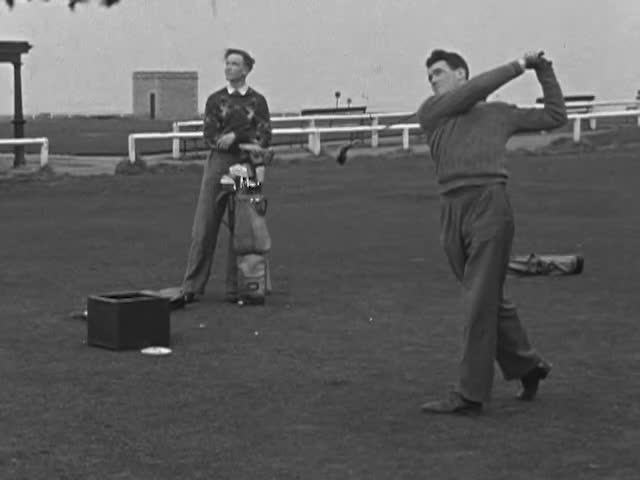 This video is not available to view remotely
Full length video - onsite only
Please read Understanding catalogue records for help interpreting this information and Using footage for more information about accessing this film.
Title: GOLF TRIP BY STEAM TRAIN TO ST. ANDREWS
Reference number: 3999
Date: 1948* / 1950*
Sound: silent
Original format: 16mm
Colour: bw
Fiction: non-fiction
Running time: 4.46 mins
Description: Depicts a golfing trip to St. Andrews, Fife. Shows men travelling from Dundee by steam train to St. Andrews station, views of the town and seafront as seen from the West Beach and records their game of golf on the Old Course.
Shotlist: [no credits] views across River Tay with hilltop above Dundee and railway bridge in view (0.12) shot taken leaning out of moving steam train as it crosses Tay railway bridge (0.22) l/s city of Dundee (0.25) gvs steam train passing through Fife countryside between Dundee and St. Andrews (0.41) brief shot golf course with Royal and Ancient clubhouse and Hamilton Hall in view (0.45) sign at St. Andrews railway station [no real view of station itself, however] (0.48) l/s West Beach and sea on a windy day, view of the Scores (0.59) shot of Royal and Ancient clubhouse, cars parked outside (1.06) shot of golfers on Old Course, steam train visible in background and pony trekkers crossing on right of way (1.19) golfers chatting to man in starters box (1.25) shot of golfers teeing off (1.40) shot of golfer playing alongside Swilken Burn, good view of St. Andrews railway station buildings and bridge in background (1.48) gvs golfers in action, includes shot from bunker (2.50) pan across seafront and town taken from West Beach (2.59) gvs putting (3.07) pan left/right of golfers in action and course generally (3.24) golfers putting at 18th hole and walking off course (3.49) l/s of town and sea taken from West Beach (3.58) l/s pan left/right across Old Course, town in background, shrouded in mist (4.11) shots of golfers putting, railway line in background (4.46)