FALKLAND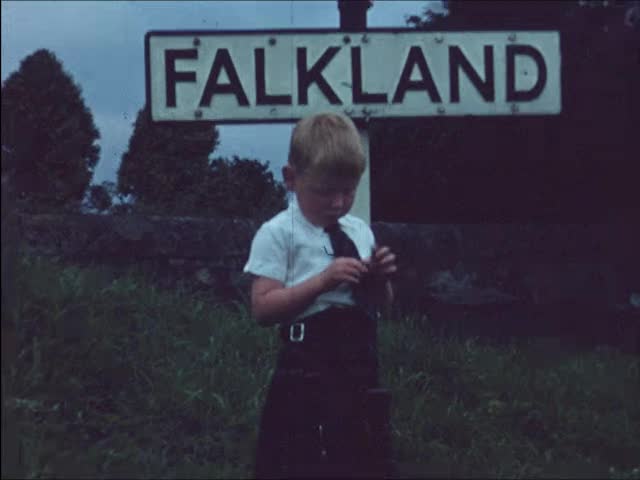 This video is not available to view remotely
Full length video - onsite only
Please read Understanding catalogue records for help interpreting this information and Using footage for more information about accessing this film.
Title: FALKLAND
Reference number: 3641
Date: 1950 - 1958
Director: filmed by Mr John Barrie
Sound: silent
Original format: 16mm
Colour: bwcol
Fiction: non-fiction
Running time: 20.34 mins
Description: The film covers various events that have taken place at Falkland Palace, from Scottish Country Dancing to a visit from the Queen.
Shotlist: Falkland Sign with young boy in kilt (0.3) view of town centre (0.14) Shot of house where Richard Cameron was born (0.33) Man climbing in window with men standing in street (0.42) shot of Falkland Post Office (P.O.) (0.46) gvs. of town (1.13) bus on empty street(1.18) gvs. of town and rooftops historical buildings (1.35) Shots of Falklands P.O. , Bruce Arms Inn (1.48) People gathered outside town hall with Policemen (2.05) FESTIVAL OF BRITAIN 1951 Title (2.07) People in fancy dress/costume. Penny Farthing bicycle. People lining the street of the parade. Gathering money from crowd (3.24) [500 Years A Royal Burgh]( 3.27) Marching, soldiers, men, girl guides, boys brigade etc. (4.21) shots of men working, Road man, Drystane dyker (4.38) Shots of thatch roof being laid (5.15) [Falkland Palace] National Trust sign (5.20) gvs. of Falkland Palace c/u of crests and surrounding areas and gardens (6.53) [B&W] Two little girls smiling in street (6.57) [Col.] Boy & girl playing (7.25) Child like crest (7.30) [B&W] Men playing tennis (8.29) SCOTS GUARDS COLOURS LAID UP (8.33) [Col.] Scots Guards on parade (8.51) [B&W] Scots Guards standing to attention (9.22) FESTIVAL YEAR 1951 (9.23) [Col.] Outdoor production on stage at festival (9.27) [B&W] People chatting in audience (9.32) [Col.] children dressed in costume (9.34) MARY QUEEN OF SCOTS (9.36) Production on stage and then cast outdoors (11.46) SCOTTISH COUNTRY DANCING (11.47) Crowd of people ready to watch the dancers, and dancers lined up (12.42) Scots Guards leading procession of dancers (13.15) Scots dancing taking place. Ladies in traditional dress/tartan (14.40) HM THE QUEEN MOTHER (14.42) Shots of the Queen Mother & Major Crichton Stuart and the palace (16.02) THE QUEENS VISIT (16.04) People sitting on wall awaiting Queen waving flags, Scots Guards, band playing (16.51) Queen & Prince Philip greeted by Lord Provost, children in the background with Union Jack & Lion Rampant Flags, Production on Stage outside (18.07) Queen entering Palace (18.35) visuals of landscape and palace (19.11) Shots of Palace again with Queen & Prince Philip leaving (19.42) FALKLAND HOUSE (19.46) gvs of Falkland House and gardens, pan left to right of landscape and animals (20.29) Shot of Round tower (20.34) End.