RED SKIRTS ON CLYDESIDE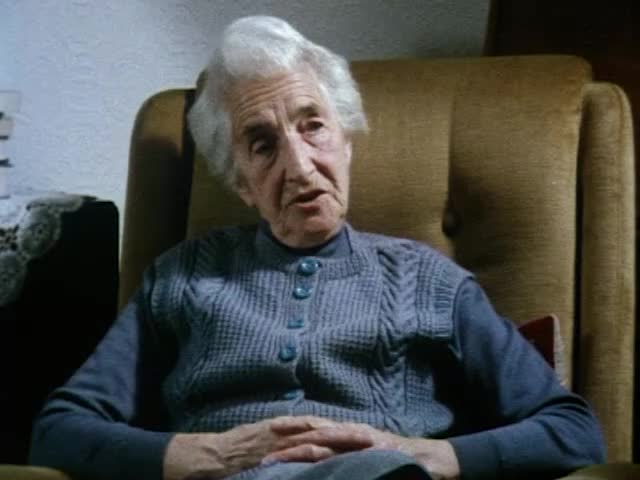 This video is not available to view remotely
Full length video - onsite only
Please read Understanding catalogue records for help interpreting this information and Using footage for more information about accessing this film.
Title: RED SKIRTS ON CLYDESIDE
Reference number: 3053
Date: 1984
Director: d. Jenny Woodley , Christine Bellamy
Production company: Sheffield Film Co-op
Sound: sound
Original format: 16mm
Colour: col
Fiction: non-fiction
Running time: 40.37 mins
Description: A documentary which looks at the process of rediscovering women's history using the 1915 Glasgow Rent Strike as a focal point. Includes interviews with women about their memories of Socialist organisations in Glasgow and personalities involved in the Strike.
Credits: lighting Anne Cottringer
ass. Sarah McCarthy
camera Caroline Spry
ass. Christine Wilkinson
sd. rec. Moya Burns
ass. Angela Martin
addit. cam: Caroline Laidler
addit. light. Sarah McCarthy
live action p. man. Joanna Brown
p. ass. Lil Coppin
rostrum sequences Begonia Tamarit, Christine Bellamy, Angela Martin
stills ph. David Falconer Rea
orig. m. composed and performed by Fish and Plume
recording and mixing Geoff Lyth
research Jenny Woodley, Christine Bellamy with particular thanks to Elspeth King, Sèan Damer
title design Fi Frances
typeset at Sheffield Women's Printing Co-op
ecs Rock Steady Rostrum Company
recording studio manager Alf Bower
ed. Jenny Woodley
Appearing in film: pupils of High Storrs School, Holt House Infant School
Jessie Findlay
Elspeth King
Kathy Mailer
Mary Barbour
Margaret Young
Jessie Barbour
Sadie Fulton
voices of Colin Martin, Christine Cox, Gail McIntyre, Clive Fussell, John Huw Parry
Shotlist: soundtrack only (0.08) panning int. shot of school corridor looking through windows into a classroom where the children are having a history lesson (1.06) aerial pan Glasgow and the Clyde (1.33) shot of St. Vincent Street, ext. Stirling Gallery, Glasgow (1.57) shot of Gardner Street, Glasgow [title overlay] (2.07) c/u talking head Jessie Findlay (2.17) and of Margaret Young, Kathy Mailer and Sadie Fulton talking (2.29) shot of Mary and Jessie Barbour (2.37) Jessie Findlay talking about the women's part in the 1915 Rent Strike (4.45) ints. Glasgow History Library; c/u hands using a card index; ms two women researchers working (5.05) ext. City of London Polytechnic (5.16) ints. of corridors and stairwell leading to the Fawcett Library (6.04) ints. of same and of two women researchers working (6.34) Margaret Young, Kathy Mailer and Sadie Fulton talking about the Sherriff's Officer being thrown onto the 'midden' during the Rent Strike (8.10) ints. of Elspeth King's office at Glasgow People's Palace and c/u E. King talking about the women's suffrage movement, looking at photographs of women in the suffrage movement including Helen Crawfurd (11.29) shots of books in the Marx Memorial Library and of a researcher looking at the file of Helen Crawfurd (12.35) Young, Mailer and Fulton talking of their memories of Helen Crawfurd, Jean Fergusson and Agnes Dollan (14.00) woman in library looking at a quote written by Pat Dollan (14.38) Elspeth King talking about the Rent Strike (15.45) still of the Govan Women's Housing Association (15.58) talking heads Mary and Jessie Barbour (grandchildren of Mary Barbour) (16.49) c/u press cutting re. Rent Strike (17.18) stills of Rent Strike (18.12) J. Findlay talking about housing conditions at that time (19.07) stills of tenements/slums (20.01) J. Findlay talking about the Sherriff Officer during the Rent Strike being thrown on the 'midden' (21.38) c/u press cuttings re. incidents during Rent Strike, intercut with stills of Strike (25.15) E. King talking about women's movement at time of Strike (25.53) Young, Mailer and Fulton talking about being brought up as socialists, and about Socialist Choirs, the Clarion, etc. (28.02) M & J Barbour talking about the Socialist Sunday School (28.43) J. Findlay talking about the socialist Sunday School (31.06) M & J Barbour talking about Mary Barbour's career after the Rent Strike (she was the first Lady Baillie in Glasgow) (32.27) shots of a women's protest march in the 1970s in London (33.22) E King talking about the re-emergence in the '70s of the women's movement (34.53) gvs housing in Glasgow - tenements, high-rise flats and new low-rise flats (36.02) shots of children in playground (36.25) still of Glasgow socialist Sunday School (36.33) panning shot of classroom (37.19) still of Helen Crawfurd with details of her political career (37.42) same for Agnes Dollan (38.10) same for Mary Barbour (38.28) same for Jean Fergusson (38.37) ecs (40.37)