GUILD OF AID ANNUAL TREATS: Christmas Party and OUTING TO BARCAPEL AND LARGS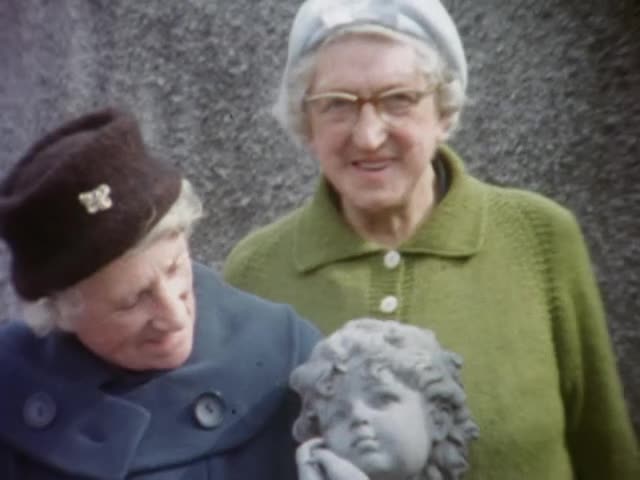 This video is not available to view remotely
Video 1

(currently displayed video)

Full length video - full length available onsite

Groups of older ladies and gents enjoying a day out in the grounds of Skelmorlie Castle. (clip)
Please read Understanding catalogue records for help interpreting this information and Using footage for more information about accessing this film.
Title: GUILD OF AID ANNUAL TREATS: Christmas Party and OUTING TO BARCAPEL AND LARGS
Reference number: 1485
Date: 1960c
Director: [filmed by Miss Marald Grant]
Sound: silent
Original format: std. 8mm
Colour: col
Fiction: non-fiction
Running time: 17:05 mins
Description: Footage of the Women's Guild of Aid, the Gorbals, enjoying a Christmas Party and an outing to "Barcapel" house in Newton Mearns, then on to Callander and Largs.
Shotlist: REEL ONE (CHRISTMAS PARTY)

Shots roof garden of Guild of Aid premises in South Coburg Street, Gorbals, Glasgow. Older women sitting at tables drinking tea. (Amongst the volunteers are Mrs Clement Wilson, in wide brimmed hat with turquoise ribbon). (2.33) Shots inside hall of Christmas dinner. Two hundred adults, mostly women, seated at tables. (Usually served by Lord Weir and Mr Clement Wilson). (4.51) Miss Edith White leads singing (5.16).

REEL TWO (OUTING TO BARCAPEL AND LARGS)

Group of women waiting outside Guild hall, with a few men. (0.55) women get into buses taking party to house "Barcapel" in Newton Mearns (owned by one of Guild directors, Mr Campbell); c/u individuals. (1.24) Shots Marald Grant (in rust coloured costume and later with red overcoat) with the women dressed in new clothes for the occasion in grounds of Skelmorlie Castle (owned by Guild patrons Mr and Mrs Clement Wilson); women walking away from glasshouse; ints. flowers, sweetpeas (1.58) women standing by labrador in a kennel; group shot of men (2.37) shots of the women resting on benches in the grounds; shot of the group, pan across faces (5.51) Mr and Mrs Clement Wilson wave farewell to the party as the buses leave. (6.07) Shots women walking round cemetery in Callander. (6.25) ls steamer. (6.34) exterior shot of Nardini Cafe in Largs; (6.45) Shots roof garden in Coburg Street. (7.52) Women at tea tables (9.10) Lady Weir (in blue) beside Miss Grant. (9.25) gvs women drinking tea in the garden (10.10) Lady Bilsland (in white dress) playing bagatelle; c/u Yorkshire terrier wearing a polka dot bow; views women chatting over cups of tea, kitchen visible in b/ground (11.49)