PREVENTION IS BETTER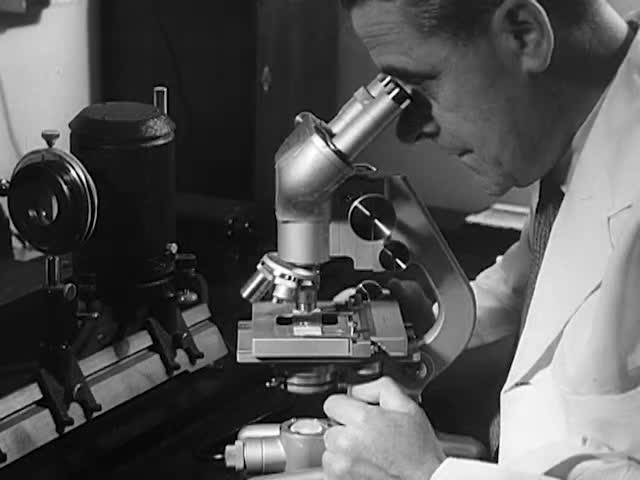 This video is not available to view remotely
Full length video - onsite only
Please read Understanding catalogue records for help interpreting this information and Using footage for more information about accessing this film.
Title: PREVENTION IS BETTER
Reference number: 1075
Date: 1954*
Director: d. Henry Cooper
Sponsor: National Association for the Prevention of Tuberculosis
Production company: Campbell Harper Films Ltd.
Sound: sound
Original format: 35mm
Colour: bw
Fiction: non-fiction
Running time: 16.00 mins
Description: Made to encourage methods of prevention of TB, the film promotes the practice of regular chest x-rays.
Credits: The NAPT express their thanks to all the characters who took part in this production.
medical adviser Dr William Murray of East Fortune
sc. adviser Miss Elizabeth Harrison of NAPT
ph. Gordon MacKay
recorded by W J MacLean
w. and d. Henry Cooper
Copies may be obtained from the NAPT, Tavistock House Tavistock Square London WC!
Shotlist: PART I

Credits (superimposed over film of Edinburgh Castle) (.35); Shots of Edinburgh Castle (.40); No 33 bus drives through an Edinburgh housing estate (Pilton) (.49); Children playing in a new housing estate (1.08); Shot of skyscraper (1.12); Brief shots of people entering their homes (1.33); Magnified shot of the tuberculosis bacillus (1.50); Workers leaving dockyard (1.53); Shots of people walking through streets of Edinburgh (2.17); Brief shots of women serving in a bakers shop, a family at table, an old man smoking a pipe, factory workers, a canteen and street scenes in Glasgow and Edinburgh (2.51); Students' charities day parade (3.23); Brief shots of back courts, smoking chimneys, people working and eating (3.47); Shot at the corner of Argyle Street and St Enoch Square and other scenes in Glasgow (3.59); A map of Scotland (4.15); Shots of a doctor and his patient (4.22); A health board meeting. (4.45); Shots of a health visitor in patient's home (5.08); Shot of a district nurse visiting a patient (5.25); A young man is examined by a schools medical officer (5.35); Interior shots of a sanatorium (5.57); Shots of the exterior of the sanatorium (6.03); Shots of crowds leaving for the new Meadowbank Park (6.11); List of symptoms of tuberculosis (6.18); Examples of same (6.48); Shot of a man being x-rayed (7.01); A doctor examines the x-rays (7.22); Interior shot of a hospital (7.38); X-rays and diagrams of a pair of lungs (8.04); Shots of men out exercising on a football pitch (8.15); Shot of a man reading about mass x-ray (8.25)

PART II

No credits. Shots of the mobile x-ray unit at a factory and later in a housing estate Pilton (.18); Shots of a man being x-rayed (.32); Shot of father and son playing with a train set (.39); Brief shot of a man working on a car (.48); A man looks at x-rays using a filmstrip projector (1.10); Shot of a child being given a BCG injection (1.46); Exterior shot of a sanatorium (1.56); A chemist at work in a laboratory (2.08); Diagrams of lungs (2.55); Shot of a welfare officer talking to one of his patients (3.25); Shot of information booklets (3.33); Brief shot of man working on a car (3.40); Brief shot of teacher in a cookery class, shots of boy scouts, parents and children. Shots of a minister, canteen, factory floor, McKellar's the butchers, a baker, and shots of a margarine production line (4.04); Shot of H Samuel Limited, jewellers, at the corner of Argyle Street and St Enoch Square, Glasgow (4.07); Shots of a queue entering the chest clinic in the Gorbals (4.10); Shot of the mobile x-ray unit turning into Bell Avenue (4.18); Brief shots of a man washing his hands, a baker mixing flour, a man sneezing. Close-up of a cup of tea and some cakes, a baby sleeping, a man sleeping, women playing golf, and a husband and wife reading a letter (5.03); Shot of a man running after the mobile x-ray unit (5.10); Brief shots of Edinburgh castle, the crown jewels, and ships on the River Clyde (5.36); Shots of boys playing basketball. Therefore guard against tuberculosis. Prevention is better than cure. Caption superimposed over shots of boys playing (6.05); ecs (6.25)