CHRISTMAS 1968, HOGMANAY NIGHT AND NEW YEARS DAY 1969, WALK TO LOCH HUMPHREY 1969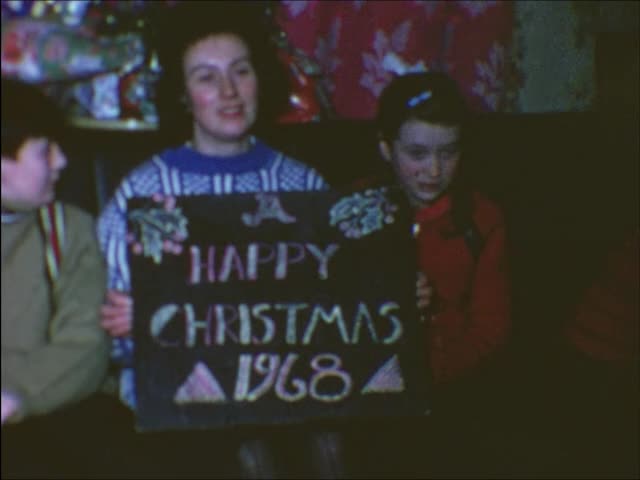 This video is not available to view remotely
Full length video - onsite only
Please read Understanding catalogue records for help interpreting this information and Using footage for more information about accessing this film.
Title: CHRISTMAS 1968, HOGMANAY NIGHT AND NEW YEARS DAY 1969, WALK TO LOCH HUMPHREY 1969
Reference number: 10149
Date: 1968 - 1969
Sound: silent
Colour: col
Fiction: non-fiction
Running time: 12.10 mins
Description: Amateur footage celebrating Christmas and New Year in Glasgow in the late 1960's. Includes indoor shots opening presents etc. Also footage of an Easter Monday walk to Loch Humphrey.
Shotlist: woman and children holding up a blackboard sign: "A Happy Christmas 1968"; opening christmas presents, boy gets a record player, girl gets a sewing machine; family sitting down to a christmas meal, playing monopoly game; girl holding up a sign: "A Guid New Year"; folk in a living room meeting, drinking and toasting the camera; boy holding up a sign: "Easter Monday 7-4-69 on route to Loch Humphrey we hope"; folk in
ruban area, walking along near waterway, walking up a hill with river Clyde in background, [@143ft] Erskine bridge being constructed [?]; folk waving to camera at top of ben, playing ball games, sign on suitcase: "a 'miracle' we made it"