STEAM LOCOMOTIVES AND SCENES AT LANARK RACECOURSE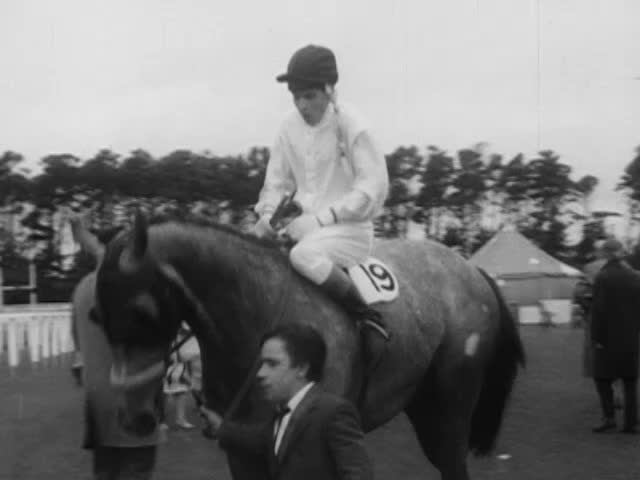 This video is not available to view remotely
Full length video - onsite only
Please read Understanding catalogue records for help interpreting this information and Using footage for more information about accessing this film.
Title: STEAM LOCOMOTIVES AND SCENES AT LANARK RACECOURSE
Reference number: 0772
Date: 1964c
Director: [filmed by Norman Pollock]
Sound: silent
Original format: 16mm
Colour: bw
Fiction: non-fiction
Running time: 3 mins
Description: Footage of various steam locomotives around Glasgow, including the Glasgow to London train pulling out of Central Station. Film also includes scenes at Lanark race course.
Shotlist: No credits. Shots of steam engine on the line to Baillieston on the outskirts of Glasgow and then a brief shot of station (0.18); Shots of engine no. 46250 (Pacific class) with full head of steam as it pulls out of the Central Station, Glasgow, on a night run to London and crosses a bridge. [Engine bears a yellow stripe which indicates that it was in service after electrificiation had begun on the railways.] (0.46); Shots from Coatbridge railway station of town and of station as a locomotive steams through, possibly engine no. 6019? (1.02); Various shots in and around the paddock at Lanark racecourse, shots of jockeys, owners and guests (1.15); Shots as races get under way (1.41); After one race, brief shot of Lord Rosebery wearing a top hat and raincoat, and a colleague in the paddock (1.56); More shots of horses and riders and of races, also general shots of people in the winners' enclosure (2.35)