SUNDAY SCHOOL OUTING - EASTERHOUSE BAPTIST CHURCH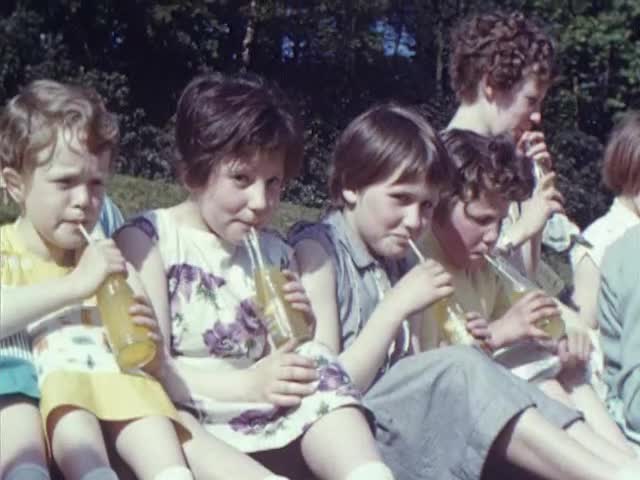 This video is not available to view remotely
Full length video - onsite only
Please read Understanding catalogue records for help interpreting this information and Using footage for more information about accessing this film.
Title: SUNDAY SCHOOL OUTING - EASTERHOUSE BAPTIST CHURCH
Reference number: 6007
Date: 1961, May 20
Sound: silent
Original format: 16mm
Colour: col
Fiction: non-fiction
Running time: 14.31 mins
Description: Easterhouse Baptist Church Sunday School outing to Colzuim Estate, Kilsyth. General views of the children walking along the street to go on the trip. General views of lots of red Irvine's double decker buses lined up at Easterhouse to collect the families. The bus convoy driving along. General views of the games, races, and picnic - boxes of fizzy drinks being carried through the crowd.

Shotlist: Young boy holding card to camera 'Easterhouse Baptist Church Sunday School Outing to Colzium Estate. Saturday 20th May 1961. Buses leaving Provanhall School at 1.30pm. Juvenile ticket 4/6'. (0.09) groups of children being escorted by parents and teachers onto Irvine's red private buses outside school (0.48) parents waving (1.00) tracking shot from bus of following buses (1.16) children inside bus waving streamers out of window (1.36) crowds of parents and children in park (Colzium Estate), boys skipping (2.11) men carrying wooden crates of beer (?) /soft drinks (2.19) man adjusting speaker on top of Red Cross caravan, man speaking in microphone (2.30) small children running in short race. Man with whistle organising race (3.54) older children prepare to race (4.17) men carrying trays of sandwiches/pies, placing them on ground (4.29) elevated view of children running, families and children playing on football pitch (4.47) boys playing on rocks over river (4.55) man tying boys legs together for three legged race, boys running towards camera (5.07) people relaxing on ground (5.19) father's race, running towards camera. Again, one dad falls over. C/u man with armbands (5.43) mother's three legged race, ending in laughter (6.06) men doing the 'wheelbarrow race', one couple fall over (6.30) woman waving at camera, women and girls skipping (6.43) c/u man with microphone. Gvs people (7.06) skipping game, people in middle swapping (7.30) gvs people sitting talking, reading books (7.45) woman with hankerchief on head (7.48) three men seated (7.51) baby in bonnet playing with tin of baby powder (7.56) gvs people in Colzium Estate, talking (8.04) two women carrying wooden box, 'Say Robertson's', and distributing bottled drinks with straws to children. C/u's children drinking (8.41) man drinking mug of tea (8.51) row of women seated against car, gvs people smiling at camera (9.11) elevated pan crowd of people in Estate, getting darker (9.35) men with wooden tray of pies, gvs seated people eating pies and buns and having cups of tea (10.12) c/u man with microphone (10.15) people having tea, relaxing (10.45) boxes of empty bottles, litter of pies/sandwiches in wooden tray (10.52) people seated talking (10.56) children looking at camera (10.58) skipping games, men joining in, woman spinning small girl (11.14) gvs people in Estate enjoying themselves, sun out again (11.36) woman taking photograph, posed group smiling (11.43) packing kettles in barrel, men carrying barrel and wooden trays up hill (12.06) elderly woman drinking juice, eating pie and laughing (12.18) small child with large yellow ball, she looks at camera (12.28) people lying on ground (12.32) c/u boy slugging from large bottled soft drink (12.38) woman taking picture of three other women and two girls. She holds camera at stomach height and has a viewer to look into (12.47) assorted girls and women jump over skipping rope (12.54) three seated women laughing, women lying and talking with children (13.27) man skipping energetically before falling over, to laughter of woman behind (13.39) different man skipping frantically before falling over and laughing (13.45) women laughing at camera, man holding end of skiping ropes (14.01) pan shot sunny Estate as people prepare to leave (14.25) people walking towards and boarding parked buses (14.31)