JETSTREAM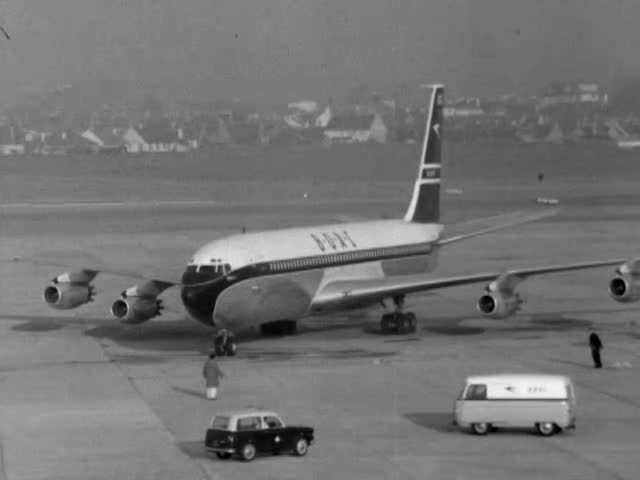 This video is not available to view remotely
Video 1

(currently displayed video)

Full length video - full length available onsite

The work of Oceanic Control at Prestwick Airport, monitoring flights across the Atlantic. (clip)
Please read Understanding catalogue records for help interpreting this information and Using footage for more information about accessing this film.
Title: JETSTREAM
Reference number: T1661
Date: [1965]
Director: d. Don Cumming
Producer: David Johnstone.
Production company: Scottish Television
Sound: sound
Original format: 16mm
Colour: bw
Fiction: non-fiction
Running time: 28.12 mins
Description: STV documentary on Prestwick transatlantic airport from 1965, showing the life of the airport during the span a full working day.
Credits: sc. Bill Knox
p. David Johnstone
narr. Michael O'Halloran
sd. rec. Len Southam
film cameraman Bill Scott
assistant Gordon Coull
film ed. Bill Robertson
Scottish Television wishes to acknowledge the assistance of The Ministry of Aviation and The Port
Shotlist: jet aircraft takes off from Prestwick Airport with title sequence and credits (0.51) shots of Airport at night - empty, apart from the cleaners and security staff (1.44) shots of runway and int of the airport(2.22) shot of Oceanic Control Centre at Prestwick (3.35) c/u of code signal machine printing out code (4.29) ext & int shots of Kennedy Airport, New York (5.53) jets taking off and landing on snowy runway (6.10) Kennedy airstrip at night with passengers boarding and shots of the int of the jet with traffic control, jet takes off in dark snowy conditions, int of the cockpit with v/o of the pilot (8.58) man at Prestwick checks weather condition instruments outside (9.24) pilot enters Meteorological office, shots of people working in the office (10.43) shots of Oceanic Control getting weather information with brief shots of air traffic control computer (13.00) int shots of passengers and crew on a flight (14.12) shots of Prestwick preparing for another busy day with shops and crew (15.39) shot of restaurant in the airport (16.03) daylight ext shots of Prestwick with jet landing, passengers depart and the (18.24) ext & int shots of jet (20.14) shots of the old and new airport terminals at Prestwick (20.48) shots of planes on the runway (21.18) int shots of a busy Prestwick Airport with shots of jets taking off and landing and being fuelled up (23.41) passengers getting off bus and entering airport (24.01) traffic control centre at Prestwick with shots of jet preparing to land with orders from air traffic control, view of landing from cockpit (27.27) jet on runway with ecs (28.12)