BIRTH OF AN AIRPORT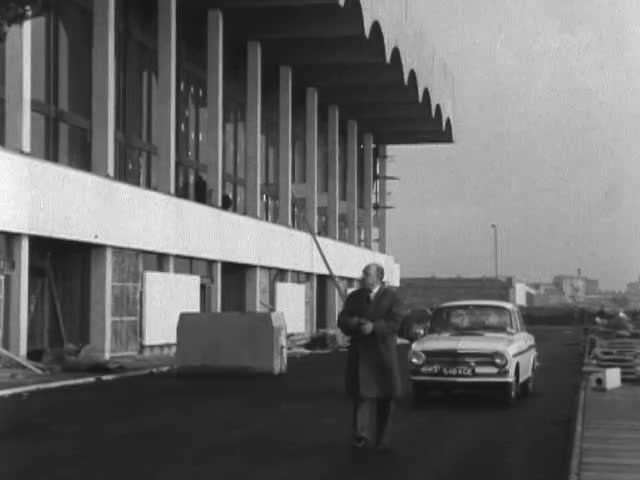 This video is not available to view remotely
Full length video - onsite only
Please read Understanding catalogue records for help interpreting this information and Using footage for more information about accessing this film.
Title: BIRTH OF AN AIRPORT
Reference number: T1087
Date: [1965]
Director: d. David Welsh
Production company: Scottish Television
Sound: sound
Original format: 16mm
Colour: bw
Fiction: non-fiction
Running time: 25.30 mins
Description: Report on Glasgow Airport at Abbotsinch, five months before opening in May 1966. Includes shots of the smaller Renfrew Airport, which Glasgow Airport replaced.
Credits: camera Ron Fraser
Shotlist: [BIRTH OF AN AIRPORT - Dateline Scotland] Development of new Abbotsinch Airport; exts. airport; aeroplane takes off; ls plane lands; mostly male passengers alight, walking across tarmac; c/u passengers feet, ms people walking into Renfrew Airport Arrivals, single storey building (1.12) talking head; unid. B.E.A. official talks about BEA's reaction to the new development (1.55) [mute] passengers climbing up aircraft stair (2.00) [sound] talking head continues (2.28) [mute] ls pilots leaving plane (2.35) [sound] more talking head (3.00) [mute] ls new building (3.08) talking head, who excuses himself to see Mr Green, Airport Director (3.30) ms BEA official meets Mr Green, they walk into the nearly completed Airport building (4.03) ms BEA official and Mr Green discuss the design of information displays for passengers; (5.33) c/u sign "Airport Director", pan to office (5.41) ints. Director's office; secretary hands him correspondence and minutes for his attention; man enters and hands Director a catalogue, c/u page advertising "Carrier Gamecock Baggage Loader" van; second man recommends a candidate for a job (6.15) Airport Director to camera; announces Glasgow Airport to replace Abbotsinch, (6.57) [mute] gvs Sanderling Air Naval Base, including shots of dismantled aircraft (7.06) gvs concrete structure of new buildings, semi-complete (7.55) [sound] talking head Mr Green speaking about new design demanded by the new site, new airline operators and passengers planning to use it (8.40) take off (8.50) talking head Mr Green, who mentions the airport has been designed to allow "blind landing" (9.18) [mute] pan over runway (9.25) [sound] Mr Green (9.57) ls airport buildings (10.03) Architect Ferguson speaks to representative of main contractor on build; Mr Ferguson discusses the design (12.25) pan over airport buildings; landscaping (13.23) further shots Mr Ferguson and contractor (13.41) [mute] gvs Manchester Airport buildings and aircraft; ints. passengers making reservations; interior spaces featuring shops, newsagents etc.; c/u television incorporating clock; small studio where broadcast is being made; check-in and lounge; c/u monitor show times of departures; ints control; (17.00) [sound] Glasgow Corporation Spokesman on Development (18.33) gvs incomplete airport buildings (19.11) Corporation Spokesman (20.07) talking head; representative for an Independent Aircraft Operator (20.55) [mute] air hostess leads passengers to Arrivals; luggage handler loads bags into "Gate 2"; ints. waiting room (21.48) [sound] representative (22.05) [mute] small aircraft taking off; c/u back-lit signs "Scotia Airport Services"; "British Midland Airways"; "Aer Lingus"; (22.45) [sound] talking head older man speaks about the history and good safety record of Abbostinch (25.04) talking head Mr Green (25.30).