RENFREW AIRPORT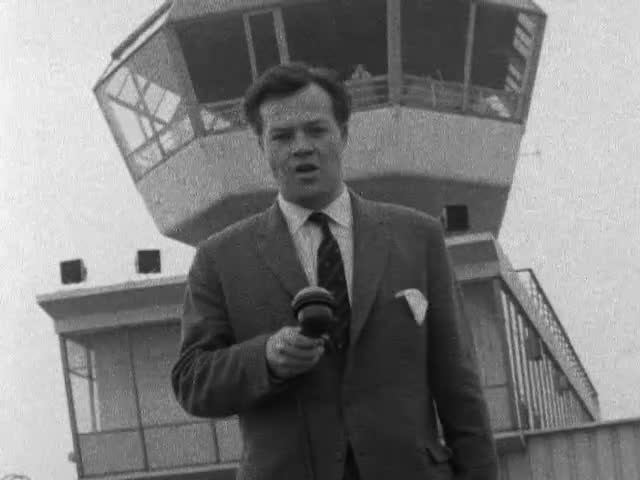 This video is not available to view remotely
Video 1

(currently displayed video)

Full length video - full length available onsite

A 'Here and There' reporter talks to the Stationmaster at Glasgow Central shortly before his retirement about the future of the railways. (clip)
Please read Understanding catalogue records for help interpreting this information and Using footage for more information about accessing this film.
Title: RENFREW AIRPORT
Reference number: T1091
Date: [1962]
Production company: Scottish Television
Sound: sound
Original format: 16mm
Colour: bw
Fiction: non-fiction
Running time: 18.00 mins
Description: Report by Bill Tennent on Renfrew Airport.
Shotlist: [RENFREW AIRPORT - Here And There] Bill Tennent to camera at Airport "Last year handled 760,000... this year expected to top 1m" (0.35) Henry Hay Iv's various passengers, a Scottish mother and her Canadian daughter; a Icelandic man "on a shopping visit"; an American golf enthusiast; a pair of young female travellers (4.45) pan over BEA planes; Tennent introduces studio singer, Eileen Keegan; leader (5.03) Iv with Mr Smith, Station Master of Central Station, who wears a top hat, speaks about 50 years service, and his duties in the station; steam train is visible in background; Cathcart train leaving station (7.55) leader, Airport Tennent in Control Tower as vanguard plane lands; i/v Mr Lewis about the importance of traffic control (12.09) Captain Starling Chief Pilot with Henry Hay about the rules of modern flying and his passengers, beside Dakota plane (15.20) Tennent to camera, leader (15.35) Tennent with plane spotters, two boys; attendant shoos them into spotting enclosure, off runway; iv attendent, discusses danger to crowds who gather to greet Rangers, for example (17.38) people board and take off (18.00).