NURSERY NURSING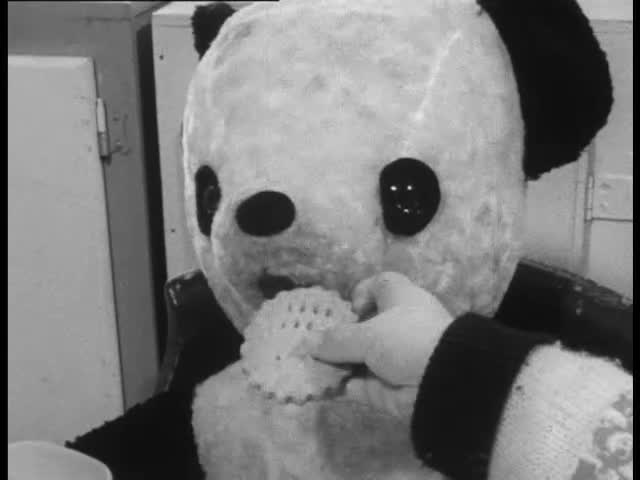 This video is not available to view remotely
Fun at nursery school - digging in the sand pit, soapy bubbles and tea-time with Panda. (clip - onsite only)
Please read Understanding catalogue records for help interpreting this information and Using footage for more information about accessing this film.
Title: NURSERY NURSING
Reference number: 4124
Date: 1960s c
Production company: BBC TV
Sound: sound
Original format: 16mm
Colour: bw
Fiction: non-fiction
Running time: 16.40 min c
Description: Television documentary showing the training of nursery nurses. The film explores the training given to the nurses and how the nurses use this training in their job. The documentary follows the nurses through various types of nurseries i.e.. day nurseries, boarding nurseries etc. [The nurseries and College used in the documentary were based in Glasgow].

Credits: Introduced by Peter West
cameraman Alex Scott
sd. rec. John Evans
film ed. Jock Clark
p. Gordon Menzies
Shotlist: Titles. (1.09) ints Peter West speaks to camera, seated at desk with two children solving jigsaws (2.09) Joyce works with 4 year old children, making jam tarts (3.38) Gvs children painting and gluing a frieze with a "Winter" theme (4.10) Children are supervised in play individually and in groups with flags, climbing frames, a sandbox, and bubbles (5.44) Exts partly tarmacked playground, children playing on slides, trikes and climbing frames v/o mentions nursery is in a "big new housing estate" (6.07) Children go for a walk in a nearby wood (8.30) Ints Peter West tastes one of the jam tarts, and asks Joyce about the children's activities, then speaking to camera introduces the subject of toilet training (9.36) Children are washing their hands in basins set at child height, using individual towels, a very young child is helped out of a cubicle, v/o emphasises the importance of hygiene in nurseries (9.15) A boy combs his hair using a mirror (9.30) Nursery Nurses have tea during afternoon nap c/u toy horse (9.49) Joyce's College class, sewing lesson (10.38) Music lesson at college, Nursery nurse students sing and play percussion instruments with a piano (11.35) Nutrition lecture, class seated before a blackboard (12.10) Ints lesson addressing difficult child behaviour (12.44) gvs Swimming lesson (13.26) Exts Peter West speaks about women served by day nurseries as opposed to nursery schools - "mothers who have to work", l/s nearby shipbuilding yard, tenements that overlook nursery (14.22) Judy bathing a baby with a superviser, using a thermometre (15.07) Morning feeding, c/u baby's face, Peter West asks Wendy about working conditions of a nursery nurse (14.57) Two year old children potty training, brushing teeth, nurse washing her hands (15.43) Children eat soup, nurses help with manners and eating (18.23) Children's sleeping period (18.41) 2-5 year olds, play action games, told a story by Joyce "The Fly Went By" v/o mentions nurses are taught story-telling technique (18.58) Headshot Peter West concludes, speaking of pay and opportunities (e.g. £13-7-6, 24 y. o. fully trained day nurse), children dance and sing, ecs.(21.06)