TEDDY TAYLOR AND THE CATHCART TORIES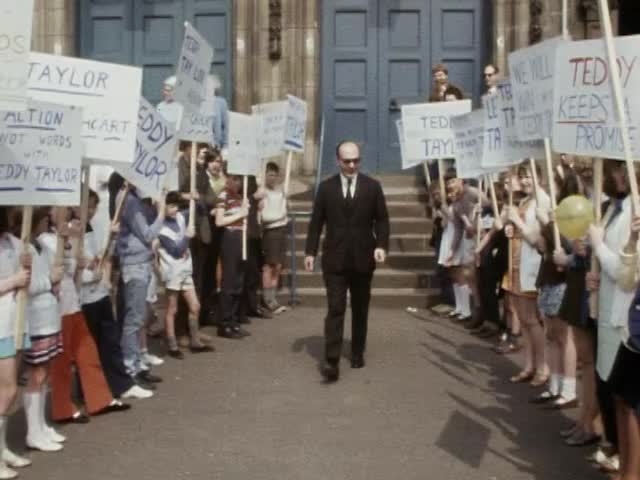 This video is not available to view remotely
Video 1

(currently displayed video)

Full length video - full length available onsite

Teddy Taylor answers criticisms about using children in his party's campaign in Cathcart. (clip)
Please read Understanding catalogue records for help interpreting this information and Using footage for more information about accessing this film.
Title: TEDDY TAYLOR AND THE CATHCART TORIES
Reference number: T0755
Date: 1974 (?)
Production company: Scottish Television
Sound: sound
Original format: 16mm
Colour: col
Fiction: non-fiction
Running time: 13.38 mins
Description: T.V. Documentary from 1974 profiling the election campaign of Teddy Taylor and the organisation of the Cathcart Tories, including vox pops from Cathcart locals and from the new Castlemilk estate.
Shotlist: [TEDDY TAYLOR & THE CATHCART TORIES - In Camera] : No credits, gv of Teddy Taylor amongst supporters outside a hall (0.14) c/u of election bill-boards (0.24) vox pops of Cathcart electorate(1.10) talking head Iv to camera with Teddy Taylor (3.00) talking head Iv to camera with Cathcart Conservative (4.18) gv of electioneering on the streets of Cathcart interspersed with Iv with Teddy Taylor & Young Conservatives (5.35) tracking shot of gv of Cathcart semi-detached Villas (6.00) Iv with Cathcart Conservative Election Agent interspersed with shots of private houses in Cathcart (7.56) panning shot from hillside of council house estate & tower blocks interspersed with Iv with Teddy Taylor (8.48) vox pops of Castlemilk electorate (10.20) gv of electioneering interspersed with Iv of Tory members (12.45) gv of Teddy Taylor leaving house with suitcases & being driven away (13.38)