INTERNATIONAL FESTIVAL OF MUSIC AND DRAMA 1949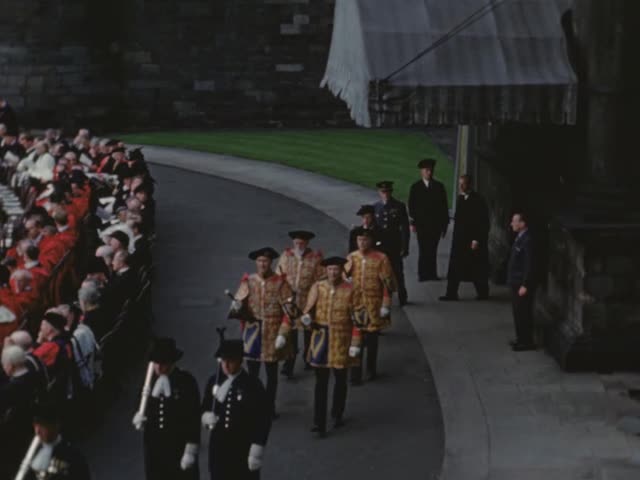 This video is not available to view remotely
Full length video - onsite only
Please read Understanding catalogue records for help interpreting this information and Using footage for more information about accessing this film.
Title: INTERNATIONAL FESTIVAL OF MUSIC AND DRAMA 1949
Reference number: 9318
Date: 1949
Sound: silent
Original format: 16mm
Colour: col
Fiction: non-fiction
Running time: 21.40 mins
Description: A procession down the Royal Mile and ceremony at Holyroodhouse to welcome European and Commonwealth representatives to the 1949 Edinburgh International Festival.

Further details of those involved in the ceremony and reprints of their speeches in booklet: "City and Royal Burgh of Edinburgh International Festival of Music and Drama 1949. Order of Ceremony on the occasion of the Ceremonial Welcome to Civic Representatives of European Cites." See paper archive ref: 11/1/563 available for consultation at the National Library of Scotland Moving Image Archive.
Shotlist: opening credits and title (0.16) Ceremonial welcome to civic representatives of European Cities within the forecourt of the Palace of Holyroodhouse by gracious permission of His Majesty the King on Sunday 21st August 1949 at 4.30pm. - The procession enters the Cathedral Church of St. Giles to attend a Service of praise and thanksgiving. - gvs procession into Cathedral (2.53) Preparations meantime proceed at Holyrood to receive the Procession. - gvs crowds on Royal Mile, police and Boys Brigade on duty - pipe band passes and marches in grounds of Holyroodhouse (4.08) The Procession, on leaving St. Giles, proceeds to Holyrood by the Royal Mile. - procession comes out of St. Giles, photographers and cameramen filming - view up Royal Mile as procession approaches - The Bailie of Holyrood leaves the Palace Forecourt with the Guard of Honour to meet the Procession. - gvs same, large crowd watching - shots of procession approaching Holyrood and entering gates - crowds stand as they approach, wind band play in foreground - remainder of procession comes down Royal Mile - procession enters Holyrood grounds and takes seats - gvs crowd (10.24) His Grace the Duke of Hamilton as representing His Majesty the King leaves the Palace and receives the Civic Dignitaries. - gv crowd, Duke of Hamilton comes out in procession, takes salute and chats to dignitaries (12.47) Addresses by: 1. His Grace the Duke of Hamilton 2. Rt. Hon. Sir Andrew Murray 3. Various visiting Civic Dignitaries. - gvs Duke speaking, then Sir Andrew Murray, Lord Provost of Edinburgh, applause from crowd - Sir Donald Cameron, Mayor of Dunedin approaches podium - onlookers stand as band plays - Pierre de Gaulle, President of Paris Municipal Council approaches podium to speak - speeches from other dignitaries and national anthems played (19.00) presentation of urn of Athenian soil to Sir Andrew Murray (19.37) Proceedings close with an address by the Rt. Hon. Sir Andrew Murray and thereafter the Procession enters the Palace. - gvs same, national anthem played, procession enters castle - gvs palace - THE END (21.40)