PRINCESS ROYAL OPENS ROYAL SCOTS MEMORIAL COTTAGES, BROOMHOUSE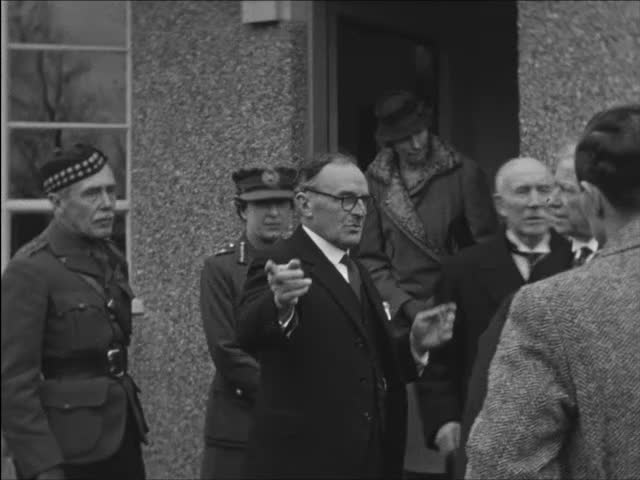 This video is not available to view remotely
Full length video - onsite only
Please read Understanding catalogue records for help interpreting this information and Using footage for more information about accessing this film.
Title: PRINCESS ROYAL OPENS ROYAL SCOTS MEMORIAL COTTAGES, BROOMHOUSE
Reference number: 6243
Date: 1946, February 16
Director: [filmed by Douglas Mickel]
Sound: silent
Original format: 16mm
Colour: bw
Fiction: non-fiction
Running time: 2.15 mins
Description: The Princess Royal attends the opening of the Royal Scots Memorial Cottages, Broomhouse, built by housebuilders MacTaggart and Mickel.

See P/CN179. Film makers diary records detailed information such as location and date - this record features DWM ref 2/46.

See also HOMEBUILDERS: Mactaggart and Mickel and the Scottish housebuilding industry ed. Miles Glendinning and Diane Watters, Royal Commission on the Ancient and Historical Monuments of Scotland, 1999.
Shotlist: [Shotlisted from Betacam SP 597, manual control track]

(0.00) no title credits, c/u sign "Memorial Houses presented by Jack Paterson and Maj. R. E. Douglas TO DL JP to Royal Scots' - introductions are made, Mary, the Princess Royal is among those present, followed by opening ceremony, presentation and speeches (0.56) PARTY INSPECTS THE HOUSES, CAMERA ANGLE BROADENS TO ENCOMPASS ELEVATED SHOT OF THE SCENE, CROWDS ARE EVIDENT AS WELL AS THE OFFICIAL PARTY OF SOLDIERS AND VIPs (1.41) Princess Royal in UNIFORM EXITS THE HOUSES AND SHOWS THE MAN A PLAQUE reading 'THESE TWO HOUSES WERE PRESENTED TO 603 CITY OF EDINBURGH (FIGHTER) SQUADRON RAF BY SIR John A MACTAGGART BART AND Col Andrew Mickel JP, 29th May 1943 [Lord Provost John I. Falconer accepting from Colonel A. Mickel the title deeds for two memorial houses at Broomhouse Road, Edinburgh, presented by himself and Sir John McTaggart to the 603 (City of Edinburgh) Squadron Auxiliary Air Force Trust. Among those who attended the ceremony were members of Edinburgh Town Council] (1.59) gvs people mill about chatting, including ladies in fur coats, one of whom is Mrs Andrew Mickel (2.15)