BRITISH MOVIETONE NEWS NO 698, PRIME MINISTER IN SCOTLAND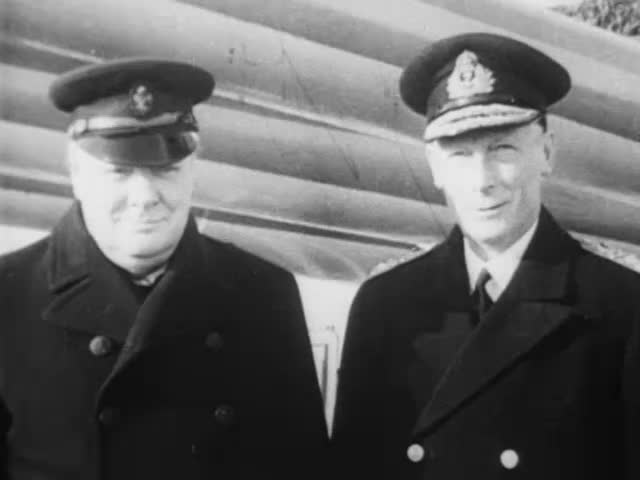 This video is not available to view remotely
Full length video - onsite only
Please read Understanding catalogue records for help interpreting this information and Using footage for more information about accessing this film.
Title: BRITISH MOVIETONE NEWS NO 698, PRIME MINISTER IN SCOTLAND
Reference number: 0818
Date: 1942, October 19
Production company: Scottish Movietone News
Sound: sound
Original format: 35mm
Colour: bw
Fiction: non-fiction
Running time: 9 mins
Description: Winston Churchill visits the Home Fleet in Scotland and receives Freedom of the City of Edinburgh. Churchill speaks of German attitudes to the war.
Credits: comm. s. Leslie Mitchell
comm. s. Sir Don Craig
ed. Gerald Sanger
Shotlist: [section General Smuts in London: shotlist from Movietone Archive]

Credits (0.10); General Smuts in London. ms Smuts leaving Hyde Park Hotel, with his son, Captain J Smuts. Smuts entering car. Smuts coming through doorway of South Africa House, he stands just outside for the benefit of the cameramen staff of House in doorway. c/u Smuts & High Commissioner for SA. c/u High Commissioner. c/u Smuts. (0.35); Prime Minister in Scotland. Winston Churchill visits the Home Fleet, with Sir Stafford Cripps; Shots of the Premier and lord privy seal on a launch going out to HMS Faulkner for a tour of inspection. (0.57) c/u Churchill; ms stern of flagship, where numerous depth charges are stored; c/u Churchill; ms bow (1.11) ls Churchill accompanied by Admiral Tubby; (1.20) Churchill on launch; climbing onto another ship; c/u buglers; ms inspection, Churchill walks along rows of sailors; (1.46) He addresses the assembled crew; pan over ship men crowded on every deck (1.53) ms Churchill shaking hands; pan over assembled men; Churchill giving another speech; (2.03) ms Churchill on launch; HMS Scylla; ms Churchill speaking to Admiral Burnett; c/u assembled crew; ms ship's cat walking along barrel of anti-aircraft gun; (2.33) c/u Churchill, ?, and Cripps (2.40); Shots of Edinburgh castle esplanade as Winston Churchill inspects the assembled Civil Defence Services (3.06); c/u Churchill in open-topped car; tracking shots from car in procession towards the Usher Hall, through streets crowded with people waving flags; ms policemen forming a cordon (3.36) Churchill and Lord Provost arrive and enter the Hall (3.44); Inside the Hall, Churchill., Lord Provost Darling and the platform party during Freedom of the City ceremony. Churchill receives casket and signs the Burgess Roll (4.36); Shots of the Prime Minister and audience as he makes a speech concerning German attitudes to the war and their treatment of the POWs [intercut with ms Adolf Hitler delivering speech, Churchill's speech continuing in v/o] (8.30); ecs (8.36)