LEITH HALL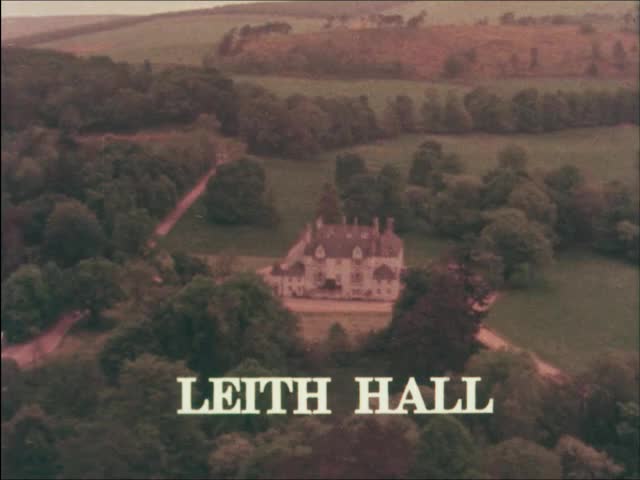 This video is not available to view remotely
Full length video - onsite only
Please read Understanding catalogue records for help interpreting this information and Using footage for more information about accessing this film.
Title: LEITH HALL
Reference number: 8370
Date: 1979*
Director: d. Graham McLeish
Production company: Grampian Television
Sound: sound
Original format: 16mm
Colour: col
Fiction: non-fiction
Running time: 26.06 mins
Description: A television documentary about the daily routine for the National Trust's employees at Leith Hall in Aberdeenshire, including footage of the interior of the house and surrounding gardens.

Part of the 'About Britain' television series.
Credits: film cameraman Malcolm Campbell
sd. George Leslie, Keith Russell, Ino Visser
dubbing Sandy Craib
exec. p. Andrew McNeil
ed. Marion Lang, Eddie Mansell

Shotlist: [shot-listed from AVI file using Quicktime]

(0.00) blank (0.02) Grampian ident - title over aerial shot of train passing Leith Hall and circling shot of building - talking head R.D. Hillson - National Trust for Scotland about presenting NTS properties to the public - aerial gvs of Leith Hall - sequence of brief shots of architectural details - aerial gvs of gardens and outbuildings, ponds (3.55) gvs of house and architecture, courtyard, details of crests - sequence of shots of joiner approaching house, let in by guide Janet Hunter - sequence of shots of Mrs Steven Mackie arriving at Leith Hall and being welcomed by Mrs Derek Gascoigne - shots of forester Colin Stewart chopping wood - gvs of gardens and shots of gardener George Stewart at work in rockery (8.49) shots of joiner finishing work on window (9.25) shots of old estate worker Mr Gordon walking around estate, v/o about spending his life working on estate (10.10) int shots of Mrs Gascoigne showing Mrs Mackie around house, c/u shots of ornaments, furniture in bedrooms (11.54) shots of Janet Hunter talking to group of visitors - c/u of muskets in gun case - shots of NTS representative Bunty Hunter talking to group of visitors in music room - c/u shots of military medals, Leith-Hay family photographs on wall, family portraits, some c/u shots of visitors, family memorabilia - zoom out to ext shot of building (16.23) shots of NTS Grampian factor Michael Hunter in grounds talking to new ranger about improvements to grounds and pond (18.43) shots of Bunty Hunter showing visitors around Library, c/u shots of furniture, framed newspaper articles, ornaments, family miniatures - sequence of shots of paintings and Leith-Hay military memorabilia (21.40) shots of painter at work on window - shots of worker repairing roof tiles on stables building - shot of Janet Hunter saying goodbye to departing visitors, then covering ornaments with cloths - shots of the Hunter sisters making a pot of tea and discussing visitor figures (24.41) aerial gv of Leith Hall - shot of Janet Hunter in room, zoom out to ext building - ecs (26.06)