MEAT THE CAMPBELLS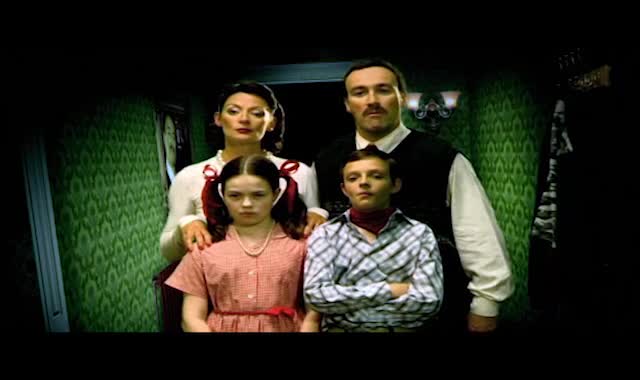 This video is not available to view remotely
Full length video - onsite only
Please read Understanding catalogue records for help interpreting this information and Using footage for more information about accessing this film.
Title: MEAT THE CAMPBELLS
Reference number: 7623
Date: 2005
Director: d. Simon Hynd
Sponsor: CBBC Scotland, Scottish Screen National Lottery Fund
Producer: Micky MacPherson
Production company: Plum Films Ltd.
Sound: sound
Colour: col
Fiction: fiction
Running time: 9.15 mins
Description: An invitation to dinner has never been so deadly. A stylish children's comedy that will leave you wanting more! [synopsis from Scottish Screen brochure "New Scottish Short Films 2005"]

Believed to have been the first production in Scotland shot entirely against green screen. The film was made using a mixture of live action sequences for performance, with all backgrounds designed and created entirely in post production. [information from Plum Films website, where you can also view a clip, See http://www.plumfilms.co.uk/webpages/film_single.php?id=12]

Tartan Smalls: An initiative to create innovative, new drama, live-action or animation for a young audience ranging from approximately 6 to 13 years of age. Three short digital films per year commissioned for television broadcast and theatrical distribution.
Credits: w. Michelle Hynd, Simon Hynd

Mark Liam Bartie
Jacob James Milligan
Pete Scott Inglis
Aneesha Rameet Sandhu
Martha Heather Corbett
Mr. Campbell Derek Riddell
Mrs. Campbell Michelle Gomez

exec. p. Simon Parsons for CBBC Scotland, Julia Caithness for Scottish Screen
d. ph. Trevor Brooker
film ed. Bill Gill
online ed. and special effects designer Mark Huskisson
p. designer Max Berman
costume and make-up designer Rhona Stewart
dubbing engineer John Cobban
m. composer Rasmus Borowski
sd. rec. Richard Paterson, Becky Thomson, Ian Ross
1st ass. d. Ray Kenny
2nd ass. d. Jill Pryde
3rd ass. d. Karen Quinn
line p. Sarah Drummond
p. man. Tina Foster
p. co-ordinator Amanda Moran
p. ass. Noirin O'Connor
p. secretary Michelle Hynd
p. runner Gordon Laird
p. accountant Eileen Aitchison
sc. supervisor Iain Andrew
camera ass. David Bryne
camera dept. runner Gareth Chambers
grip Robert Etherson
gaffer Donny Campbell
electrician Ewan Epton
art d. Ali Milligan
art dept. ass. Liam McCallum
construction man. Bob Barclay
wardrobe ass. Emma Turner
wardrobe ass. / hairdresser Kevin Stewart
hairdresser Michael Beeman
stills ph. Diane Smith, Laura Hynd
camera Axis Films
lighting and grip Lee Lighting
catering Madly Mocha
offline ed. ARC Facilities
online ed. Motion Elements, Jim Allison Editing
sd. post production The Base
production insurance AON Insurance

With thanks to Ellie and Georgie Foster MacDonald, Mona and Josh Yang, Munmeet Sandhu, Keir Jamieson, Ross Donnachie, Charlotte Robertson, Caitlin Hardie, Angelina Bartie, Mia Winstone, Sean Munro, Jonathan Dorrian, Cotterell Light Centres, The Johnston Family, Rick Beattie @ Red Roof Studios, Barry Bulsara & Patti Hynd.

A Plum Films Ltd film for Tartan Smalls, CBBC, Scottish Screen Lottery Funded.

© Plum Films Ltd. MMV