COULROPHOBIA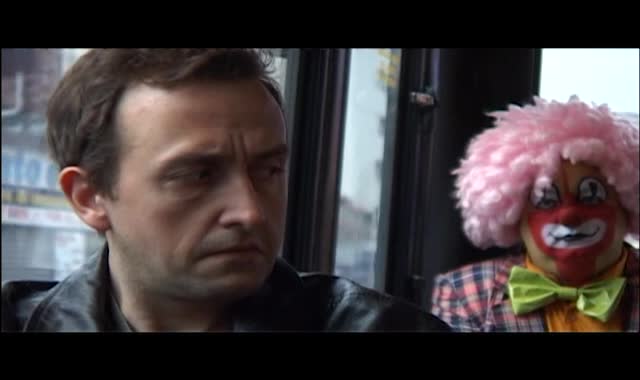 This video is not available to view remotely
Full length video - onsite only
Please read Understanding catalogue records for help interpreting this information and Using footage for more information about accessing this film.
Title: COULROPHOBIA
Reference number: 7609
Date: 2006
Director: d. Scott Mowbray
Sponsor: The UK Film Council's New Cinema Fund and supported by The National Lottery through Scottish Screen. UK Film Council Lottery Funded, Scottish Screen Lottery Funded, GMAC, BBC Scotland
Producer: David W. Allan
Production company: Little Pictures
Sound: sound
Colour: col
Fiction: fiction
Running time: 5.19 mins
Description: Alan has problems, the main one being his delusional fear of clowns. He feels threatened, and comes to the conclusion they want to kill him because he's not like them. Sensibly he enrols the help of a professional a psychologist call Dr. Pierce. Unfortunately for Alan, Dr Pierce is incompetent at his job, un-interested in his patients and suffers from his own obsessive compulsive disorders namely an unnatural fixation with stationary. The outcome doesn't look good.
Credits: UK Film Council & Glasgow Media Access Centre present A Little Pictures Production in association with Scottish Screen and BBC Scotland

w. Scott Mowbray

Cast
Alan Jack Reid
Dr. Pierce Peter Lochburn
Insane Bus Clown Eddie Doherty
Pharmacy Clown Joseph McSwiggan
Park / Dream Clown Charles MacRae
Nightmare Clowns Colin Scott, Dominic McAteer, Ian Ross

Extras Ruth Brown, Jennifer Doherty, William James Allan, Jane Allan, Freda MacNeill, Sharifa McLean, Alan Murray, Shiona Mowbray, Fraser Murdoch, Kate McKinnon, Jenne Brown

Crew
d. ph. Scott McCartney
sd. rec. Paul Bertellotti
p. designer Annmarie McKenna
costume designer Helen Barron
make-up artist Wendy Kemp Forbes
storyboard artist Brad MacLean
original score Diane Jardine
ed. Jon Court
p. ass. Jackie Thornton
camera ass. Grant Wrass (Wragg?)
boom operator Stephen Couser
make-up ass. Linda Gardiner
art dept. ass. and stills ph. Roseanne K. Davidson
catering supplied by John Malpas
bus driver Alan Slaven

Thanks to Brian McCourt and First Stop Travel, Betty at Stage Party Barton St Stirling, John Buchanan at Buchanan & Campbell Chemists, Sandra Aird Clydebank College, Fred Emden and Tron Theatre Co., The Arches Theatre Co., Wullie Summers GMAC

For GMAC
sc. ed. Sarah Tripp
GMAC director Dale Corlett
p. Ciara Barry
exec. p. Karen O'Hare

Made with the support of The UK Film Council's New Cinema Fund and supported by The National Lottery through Scottish Screen. UK Film Council Lottery Funded, Scottish Screen Lottery Funded, GMAC, BBC Scotland