HUSHTOWN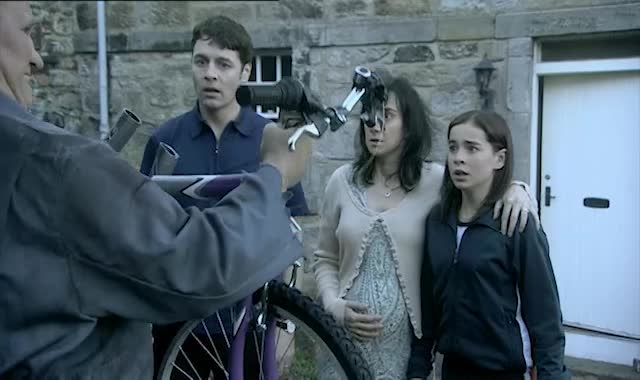 This video is not available to view remotely
Full length video - onsite only
Please read Understanding catalogue records for help interpreting this information and Using footage for more information about accessing this film.
Title: HUSHTOWN
Reference number: 7585
Date: 2004
Director: d. Adrian Mead
Sponsor: CBBC Scotland, Scottish Screen National Lottery Fund
Producer: Claire Kerr
Production company: Sprocketeers
Sound: sound
Colour: col
Fiction: fiction
Running time: 10.11 mins
Description: Children should be seen and not heard? In Hushtown that's the law! When ten year old Laura Noyce moves to Hushtown she breaks the law and has to suffer the consequences, or does she? [synopsis from Scottish Screen brochure "New Scottish Short Films 2004"]

Tartan Smalls: An initiative to create innovative, new drama, live-action or animation for a young audience ranging from approximately 6 to 13 years of age. Three short digital films per year commissioned for television broadcast and theatrical distribution.
Credits: Laura Noyce Lauren Marshall
Mum Astrid Azurdia
Dad Paul Cunningham
The Baby Murray Sheddon, Callum Polson
Noise Warden Rab Affleck
Lady Mayor Alyxis Daly
Doctor Ian Hanmore
Town Fool Ross Kelly
1st ass. d. Derek Ritchie
2nd AD / co-ordinator Fiona MacMillan
3rd ass. d. Paul Shearer
floor runner Paul Lambie
unit man. Victoria Garden
location ass. Alison Wallace
unit runner Fiona Lennon
chaperones Anne Rankin, Shona Paton
cinematographer Scott Ward
focus puller Mits M'Itamwari
camera ass. Minttu Mantynen, Joanna MacIntyre
steadicam operator Kevin O'Brien
grip Robert Etherson
gaffer Andy Stewart
sc. supervisor Mark Jenkins
sd. rec. Becky Thomson
sd. maintenance Tristan Anika
p. designer Mike McGloughlin
standby art d. Margaret Reeves
construction Craig Castle
art. dept. ass. Melissa Bunkle
van wrangler Andy Sutherland
make-up artist Christine Brack
make-up ass. Niamh Morrison
costume designer Denise Coombes
wardrobe ass. Sally-Gay McCann
2nd wardrobe ass. Dena Thanopoulos
composer Ian Cook
offline ed. Mark Jenkins
online ed. Ian Ballantyne
CGI effects Berg Saetre
sd. design John Cobban
dubbing ass. Craig Aitchison

Many thanks to the residents of Culross, Fife. The National Trust, Scotland at Culross Palace and Townhouse. The staff of the Cameo Cinema, Edinburgh. Noise Warden's van supplied by Thomson Motor Co., Edinburgh

exec. p. Simon Parsons, Becky Lloyd
w. and d. Adrian Mead
p. Claire Kerr