LORD OF THE FLEAS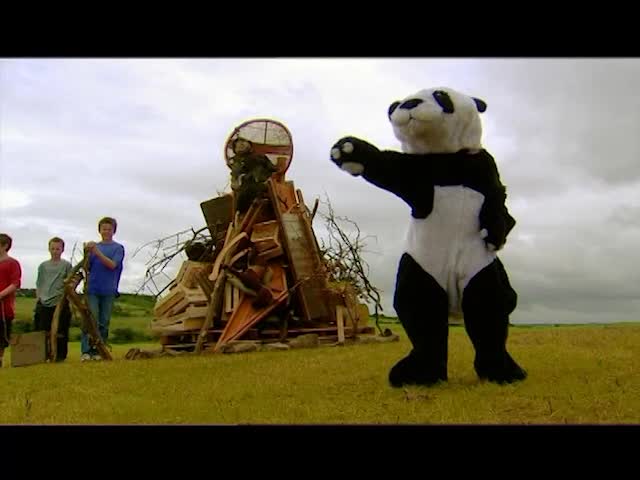 This video is not available to view remotely
Full length video - onsite only
Please read Understanding catalogue records for help interpreting this information and Using footage for more information about accessing this film.
Title: LORD OF THE FLEAS
Reference number: 7503
Date: 2003
Director: d. Stuart Grieve
Sponsor: CBBC Scotland, Scottish Screen National Lottery Fund
Producer: Angela Smith
Production company: A Tern Television Production in association with Three Sisters
Sound: sound
Colour: col
Fiction: fiction
Running time: 10.24 mins
Description: When your bonfire is stolen by a rival gang, there is only one thing to do. Head through no-man's and and steal it back. [synopsis from Scottish Screen brochure "New Scottish Short Films 2003"]

Tartan Smalls: An initiative to create innovative, new drama, live-action or animation for a young audience ranging from approximately 6 to 13 years of age. Three short digital films per year commissioned for television broadcast and theatrical distribution.
Credits: CBBC Scotland and Scottish Screen present

d. Stuart Grieve
p. Angela Smith
w. Joe Mullin

Cast:
Doughnut David McAllister
Brains Jonathan Boyle
Legs Allan Kennedy
Nervous Joseph Carney
Thumbs Spencer McMillan
Leckie Jamie Quinn
Stan Paul McLaughlin
Sadie Chloe Holliday
Ice cream man Alan McCafferty
Major Frosty

Infantry Mark Brown, Christopher Mitchell, Gary Scott, Jonathan Pender, Elliot McQuiston, Ronald McAughey, Samantha Denholm, Natalie Ogilvie, Scott Cowan, John Cowan, Kieran McCabe, Eilidh Cowan, Jade Patterson, Robyn Hart, Heather Keenan, Denise Taylor, Shannon Douglas, Olivia Black, Ali Craig, Jack Shepherd, Adam Bush, Conor Martin, Conor Winning, Sean Martin, Geoff Patterson, Jasmine Main, Chloe Gray, Daniel McNally, Craig Scally, Jack Fox, Nicole Docherty, Lloyd Butler, Jode Merrick, Claire McCabe, Thessa Sianipar, Jack Wylie, Nicole Lynch, Rachel Craig, Carly Ward

Leckie's Gang Sean O'Hara, Christopher Robin, Lee Robin, Ross Harris, Ross McLean, Ciaran Gallagher, Michaela Cruikshanks, Mahdi Sunda, Ian McAllister, John James Gallagher

p. man. Kieran Parker
ass. p. Arabella Page Croft
1st ass. d. Morris Milne
3rd ass. d. Joanne Matthews
runner Joseph McLanaghan
sc. supervisor Anne McGarrity
location man. Simon Weston
chaperones Stephen Houston, Caroline Stewart, Maureen Cairns, Martin John Bristow, Karen Coleman
d. ph. Philip Robertson
camera operator John Harper
camera ass. Gordon McMillan
steadicam operator Martin Parry
grip Robert Etherson
camera trainees Colin Cumming, Will Church
stills Cristina Llofes-Armstrong
titles Laura Eyres
p. designer Natalie Astridge
art d. Moley Campbell
ass. art d. Suzanne Field
runners Carrie Smith, Ailean Stuart
costume designer Louise Noble
costume ass. Emma Bannerman, Sally Campbell
make-up designer Lorraine Prosser
make-up ass. Caroline Hamilton
sd. rec. Duncan Reid
boom operator Kieran Boyne
dubbing mixer John Cobban
ass. ddubbing mixer Craig Aitchison
online ed. Simon Cull
ed. Megan Green
exec. p. for Scottish Screen Becky Lloyd
exec. p. for BBC Claire Mundell, Simon Parsons

Thanks to Barbara Doyle, Sandra Grieve, Ron Waddell, Joy Grieve, Bramble Grieve, Chris Coombs, Susan Doyle, Jason Hendriksen, Karen East, Alice Smith, Ian Smith, Keith Smith, James Brownwright, Live 'n' Loud Stage School, Glasgow City Council, Castlemilk High School, John O'Neil, Cathkin Braes Golf Club and the people of Castlemilk.

A Tern Television Production in association with Three Sisters for CBBC, Tartan Smalls, Scottish Screen Lottery Funded. © BBC MMIII