FIT FOR A WOMAN?: Women Leisure and Well-Being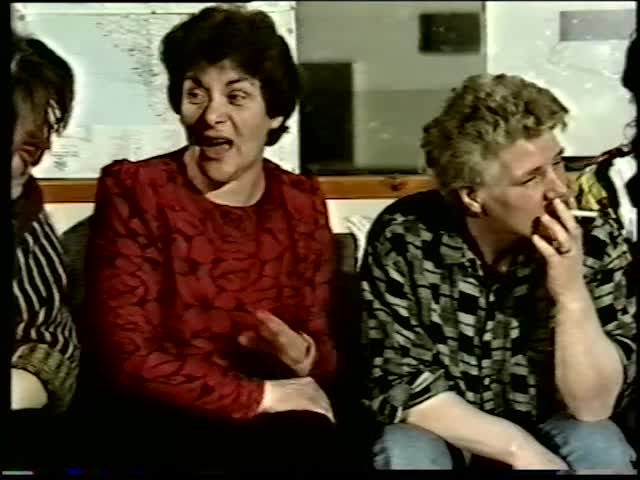 This video is not available to view remotely
Full length video - onsite only
Please read Understanding catalogue records for help interpreting this information and Using footage for more information about accessing this film.
Title: FIT FOR A WOMAN?: Women Leisure and Well-Being
Reference number: 6959
Date: 1987
Director: d. Cassandra McGrogan
Sponsor: Edinburgh District Council, Lothian Regional Council, Scottish Sports Council
Production company: Edinburgh Film Workshop Trust / Centre for Leisure Research
Sound: sound
Colour: col
Fiction: non-fiction
Running time: 20.50 mins
Description: Documentary examining womens' experience of leisure-time in the Edinburgh area, exploring what is available for them in the community, when they can take off for leisure, and if indeed women do have any time to themselves at all. Mostly features talking head interviews, with some shots of women's activity groups.

Video sleeve reads '"I'd like to relax and not hear a voice in the background" "You're not somebody's mother, you're not somebody's wife, you're not a housewife...this is what you're doing on your own. For yourself." For women and men the experience of leisure is different. We are all too familiar with the forms of leisure popular with men - the pub, snooker, football. What is less well-known is what women get up to when (and if) they have time for themselves. Fit for a woman? is about women's experience of leisure - particularly women with young children.'

Credits: cam. Dianne Barry
sd./VTR Becky Thomson
ass. Melanie Hay
p.man. Rosie Gibson
intv. Andi Ross
ed. Sonya MacAngus
ass.ed. Gill Parry
on-line ed. Alan Roberston
co-p. Cassandra McGrogan, Sarah Noble, Erica Wimbush
sc. Sarah Noble, erica Wimbush
Based on the "Women, leisure and well-being" research report sponsored by the Health Promotion Research Trust carried out by the Centre for Leisure Research, Edinburgh.
m. The Penguin Cafe Orchestra courtesy of Editions Penguin Cafe
facilities Film Workshop Trust Edinburgh
The Television Workshop
Duncan of Jordanstone College of Art, Dundee
With special thanks to
marathon runners: Linda Malcolm, Alison Redpath, Ruth Sowerby
Craigroyston Community High School: Grace Anderson, Kay Singh, Margaret Haddock, Ellen Gray, Janette Wright
Muirhouse Festival Society: Josie Auld, Jane Auld, Jean McAlpine, Sandra Watson, Charmaine Gallen, Maureen Scott
Video in Pilton: for extracts from 'Aladdin and the Dragon Queen'.
Also thanks to : Lea Harris, Claire Smith, Hugh MacKenzie, Rod Stone, Stephen Partridge, Muirhouse Under Twelves Hut, Meadowbank Sports centre, mecca Bingo, Leith, Jewel Miners' Welfare
Funded by : Edinburgh District Council, Lothian Regional Council, Scottish Sports Council
This video is dedicated to Sarah Noble, Woman's Unit Co-ordinator at Film Workshop Trust, who died in 1987. Her support and commitment were at the heart of this production.
©1987 A Film Workshop Trust/Centre for Leisure Research Co-production.
Shotlist: [shotlisted from VHS, manual timecode]

Woman asking questions about exercise, then at typewriter [0:00:32] title [0:00:43] lots of men running in race, woman running upstairs. Sequence of male leisure/exercise activities including snooker and the pub intercut with women performing domestic activities including sewing and looking after children [0:01:24] talking head Rod Stone, Sports Centre Manager [0:01:42] talking head Claire Smith, Sports Development Worker [0:02:18] female marathon runners [0:02:52] women seated in garden talking intercut with shots of them out running in countryside [0:04:51] gvs school age girls at judo [0:05:16] talking head woman about exercise and women only classes intercut with shots of other women in gym [0:06:05] women at various activities, hockey, gym, archery, tennis, swimming. More elderly ladies at dancing and the bingo [0:06:40] talking heads elderly women at bingo, vox pops various women about what they do in spare time [0:08:22] woman putting baby down in cot, before switching on television and putting feet up [0:09:00] Kay Singh, Continuing Education Worker talking to woman intercut with shots of Craigroyston Further Education college, gvs nursery facilities and other women with small children [0:11:40] woman at woodwork class [0:12:33] woman at sewing class then talking about it [0:13:37] pantomime performance, four women talking about it with Kay Singh, rehearsal. All smoking cigarettes and drinking water [0:16:22] more gvs pantomime featuring all women and a dragon [0:17:00] Meadowbank athletics track, Kay Singh in seat talking about issues intercut with shots of women with children [0:17:44] woman talking about male leisure activities and provision of leisure facilities for women at Craigroyston [0:18:56] Play and creche facilities as a basic part of venues [0:19:01] Places where children are welcomed [0:19:05] Places where women can meet socially within walking distance of home [0:19:10] Settings where women feel comfortable [0:19:14] Activities in the evening as well as daytime [0:19:19] Places with flexible payment arrangements [0:19:24] Providers and policy makers should consult women [0:19:29] Information about leisure facilities should be distributed via nurseries, shopping centres, playgroups, health centres etc [0:19:38] ecs [0:20:50]